Samsung produces flexible displays for some time already. As a result, the Korean manufacturer proudly introduced their first foldable smartphone earlier this year. Although the launch of the Samsung Galaxy Fold was postponed, friend and foe cannot deny that this is a very advanced and innovative product. But the company has many more creative ideas for foldable and rollable smart devices.
Last month LetsGoDigital reported on a Samsung smartphone with a rollable display, a candy bar model. This time we came across a patent for a Samsung Galaxy smartphone that can be pulled from either side to stretch out into a tablet size device.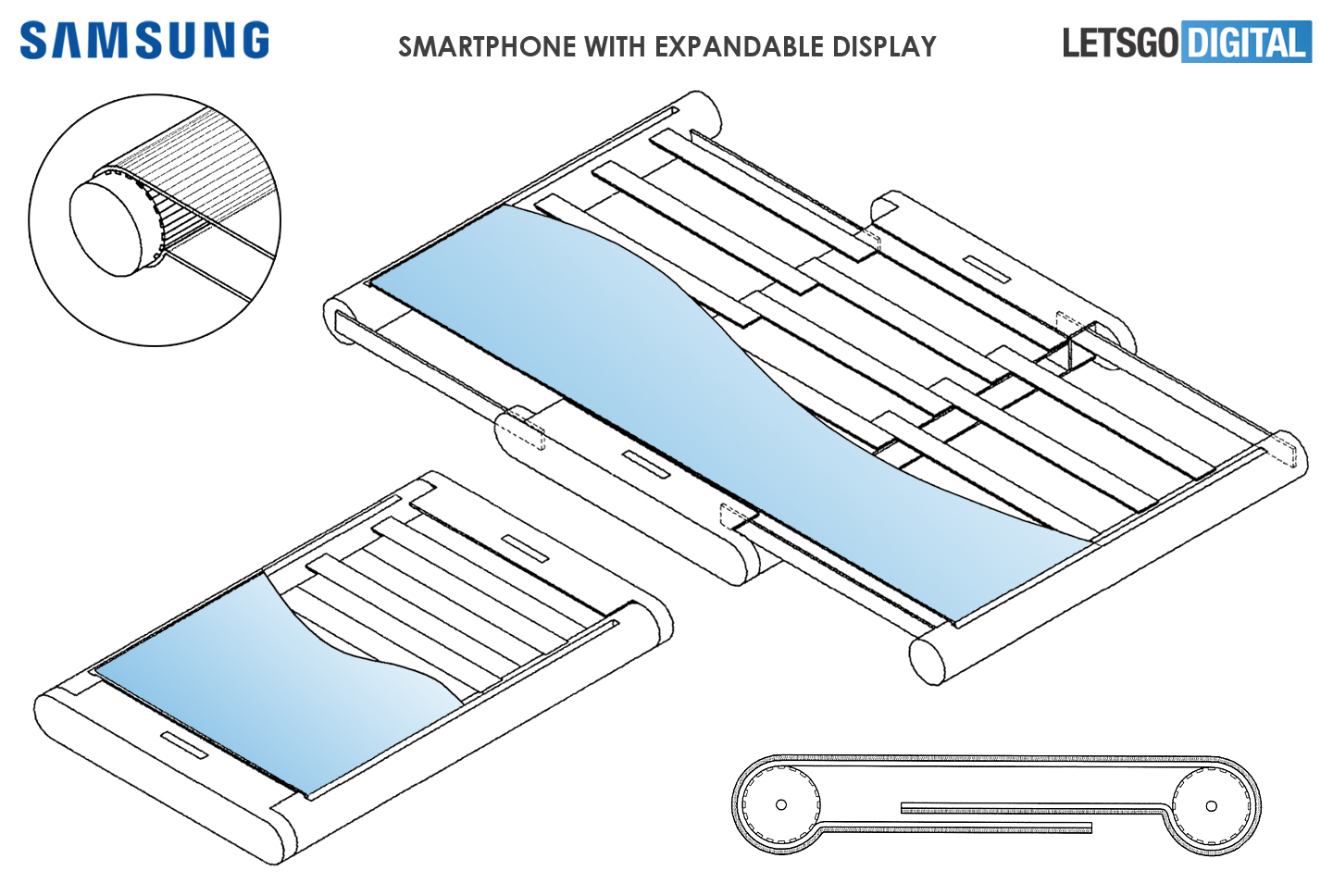 Samsung smartphone can be pulled out into a tablet size device
The patent was applied for by Samsung Display, the display division of the Korean manufacturer. On June 11, 2019, the patent entitled "Display Device" was published in the USPTO (United States Patent and Trademark Office) database.
The patent consists of 27 sketches and an in-depth documentation of a mobile device with a pull out display. It is a technically defined patent, a lot of attention is paid to the rolling mechanism that ensures that you can roll up and unroll the display of this device.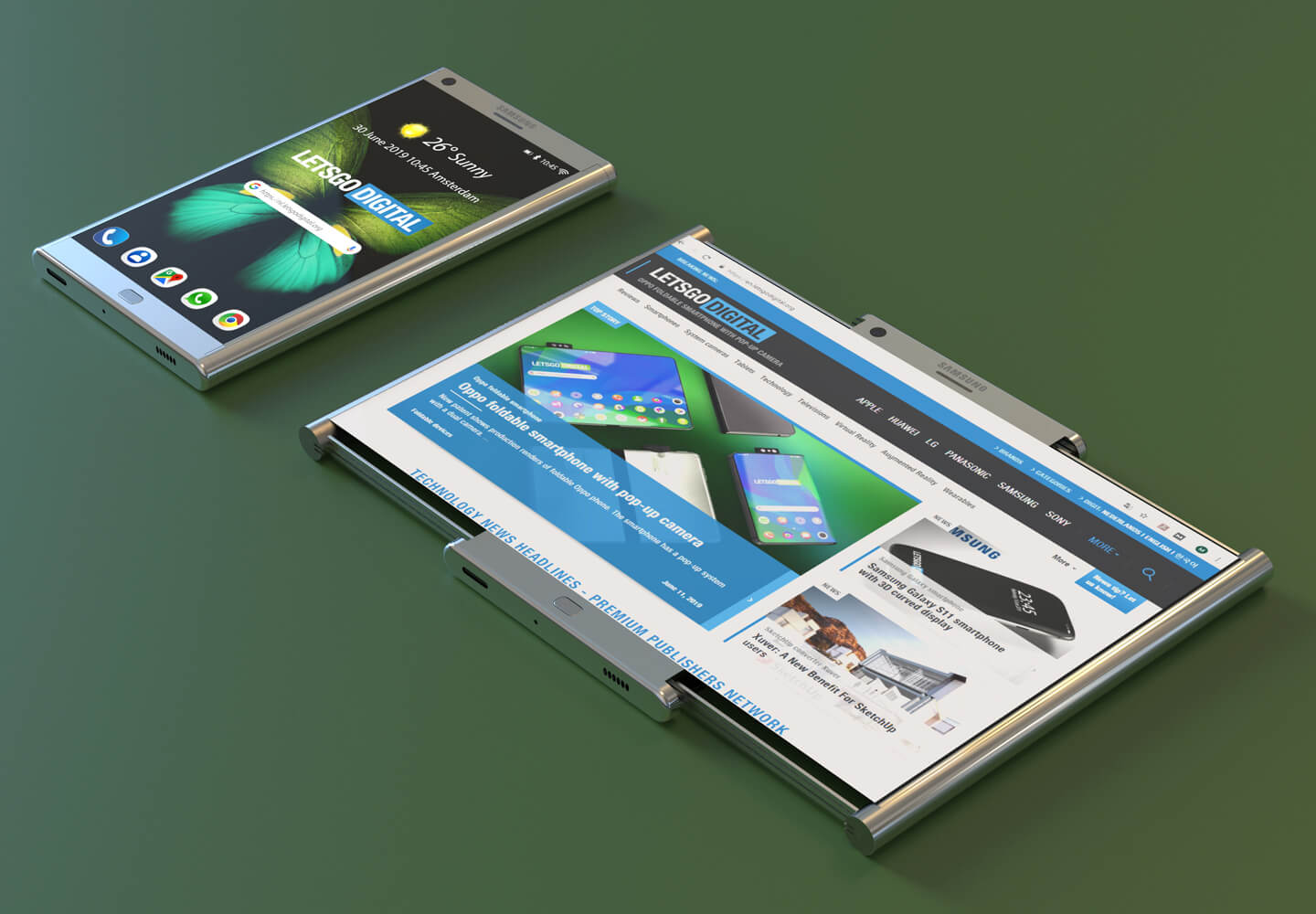 Once pulled out, the device has a screen size that is almost 3x as large as in its most compact form. To get a better idea of the patented product, LetsGoDigital designed a series of professional 3D renders based on the sketches and description of this patent.
By means of a rolling mechanism, which works in combination with a moving rail, the flexible screen can be rolled up in the housing. You can then easily carry the device with you, or you can use the smaller screen area – similar to a compact smartphone.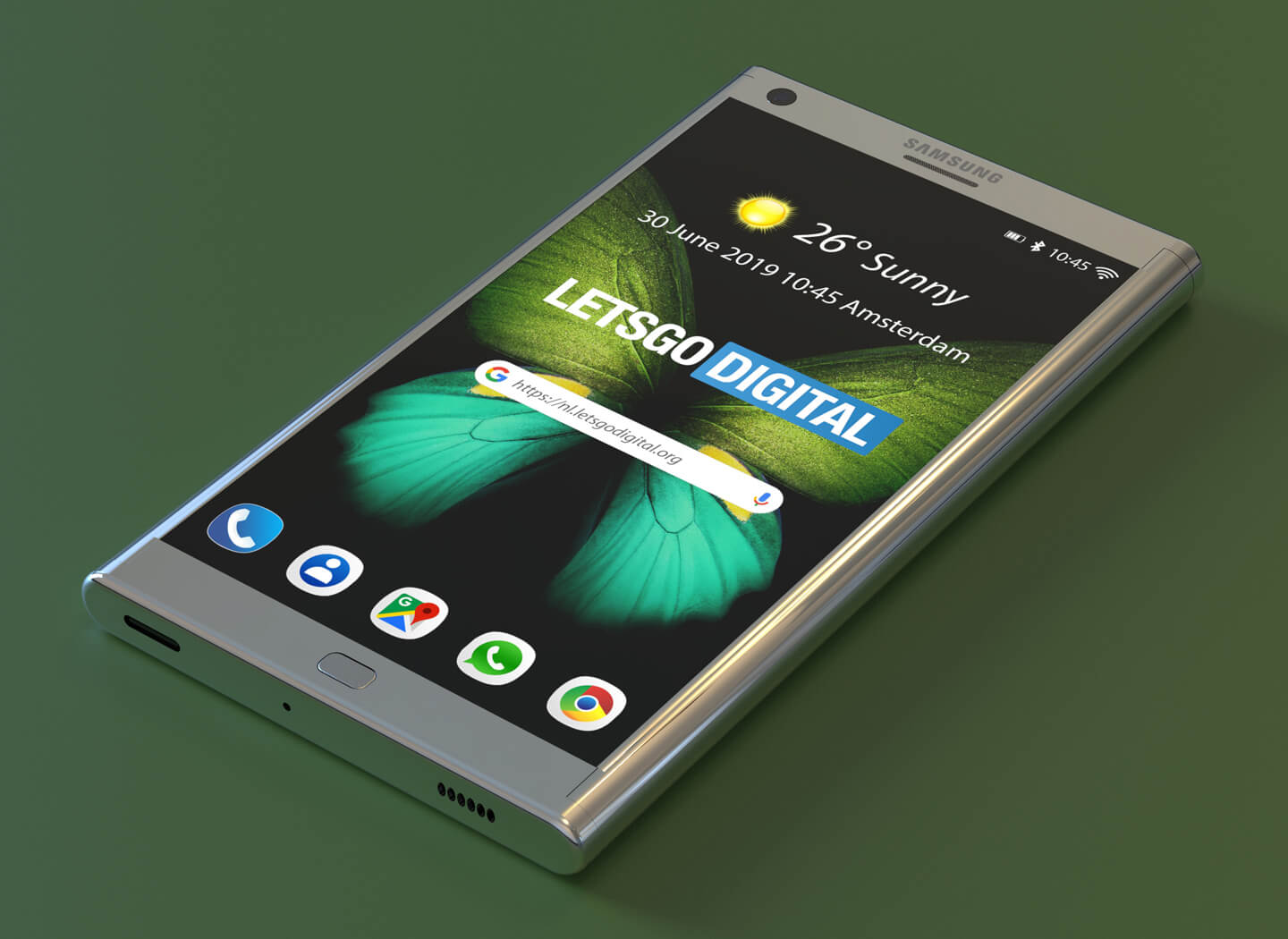 The rollable smartphone from Samsung has a large bezel on both the top and bottom of the device. In addition to the usual components, such as a camera and receiver, the bezel also incorporates a drive motor for the rolling mechanism. The whole is so nicely concealed that in the first instance you can hardly see that this smartphone can be pulled out.
The round-shaped frame on the left and right-hand side is extendable. This frame also incorporates the rolling mechanism, in addition it serves as a grip when you pull out the phone display. The frame also ensures the flexible screen stays better resistant to external influences.
When you pull out the flexible screen it is supported by the moving rails. Samsung has provided them with slots, making the left and right sides fit exactly together when the phone is rolled up again.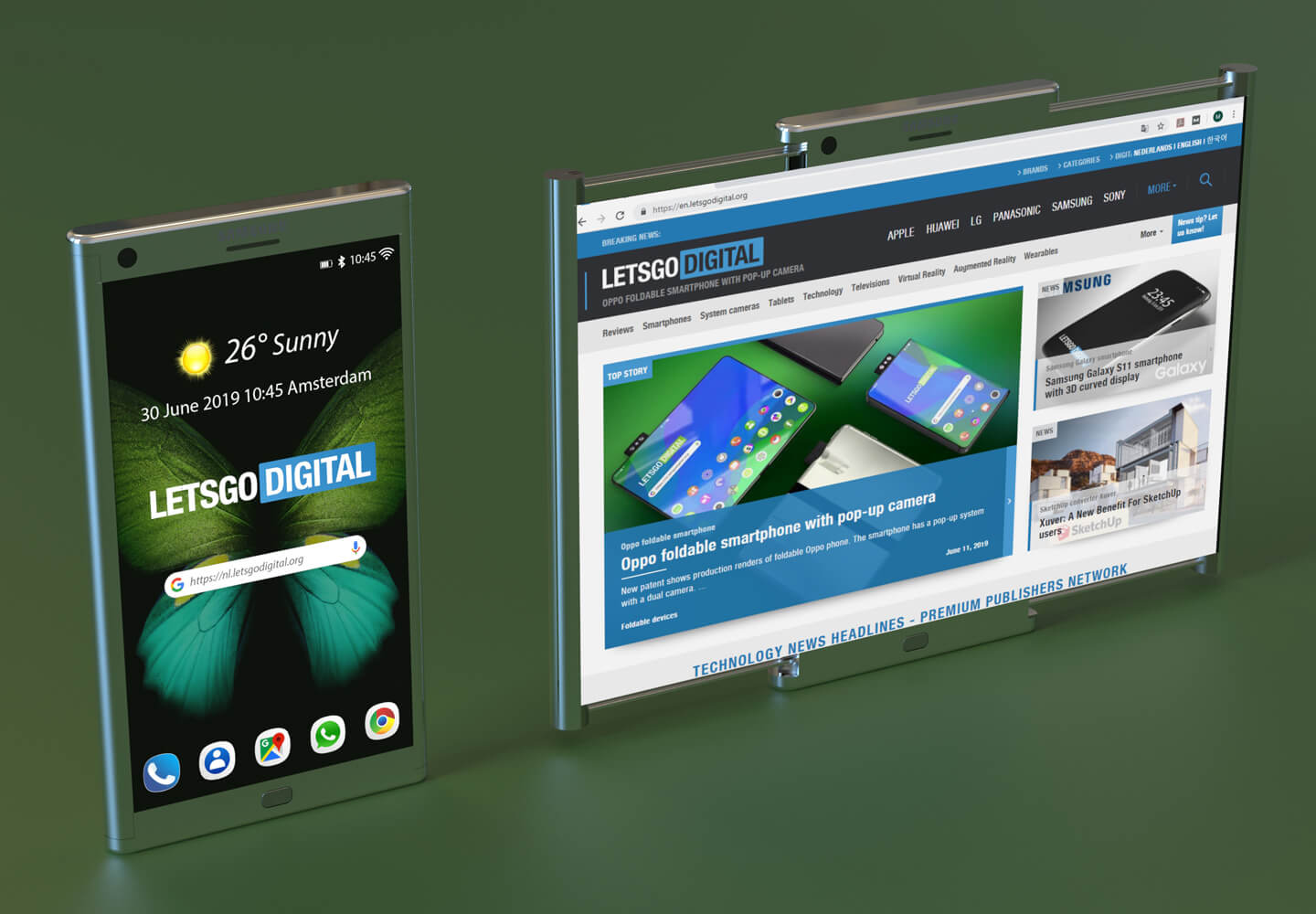 However, it remains to be seen how sustainable this system is in practice. I can imagine that a lot of dust will get between these slots over time, which can negatively influence the rollable process. Moreover, these rails must be prevented from bending, otherwise they will no longer fit seamlessly together.
Another disadvantage is that once such a large screen is being stored in the housing, there is only a little space left for other necessary components, such as the battery. Nowadays, the 3.5mm connection is being omitted in many new smartphones due to a lack of space. To build in such a sliding system, the housing has to become significant thicker or manufacturers will have to look for smaller, replacement components.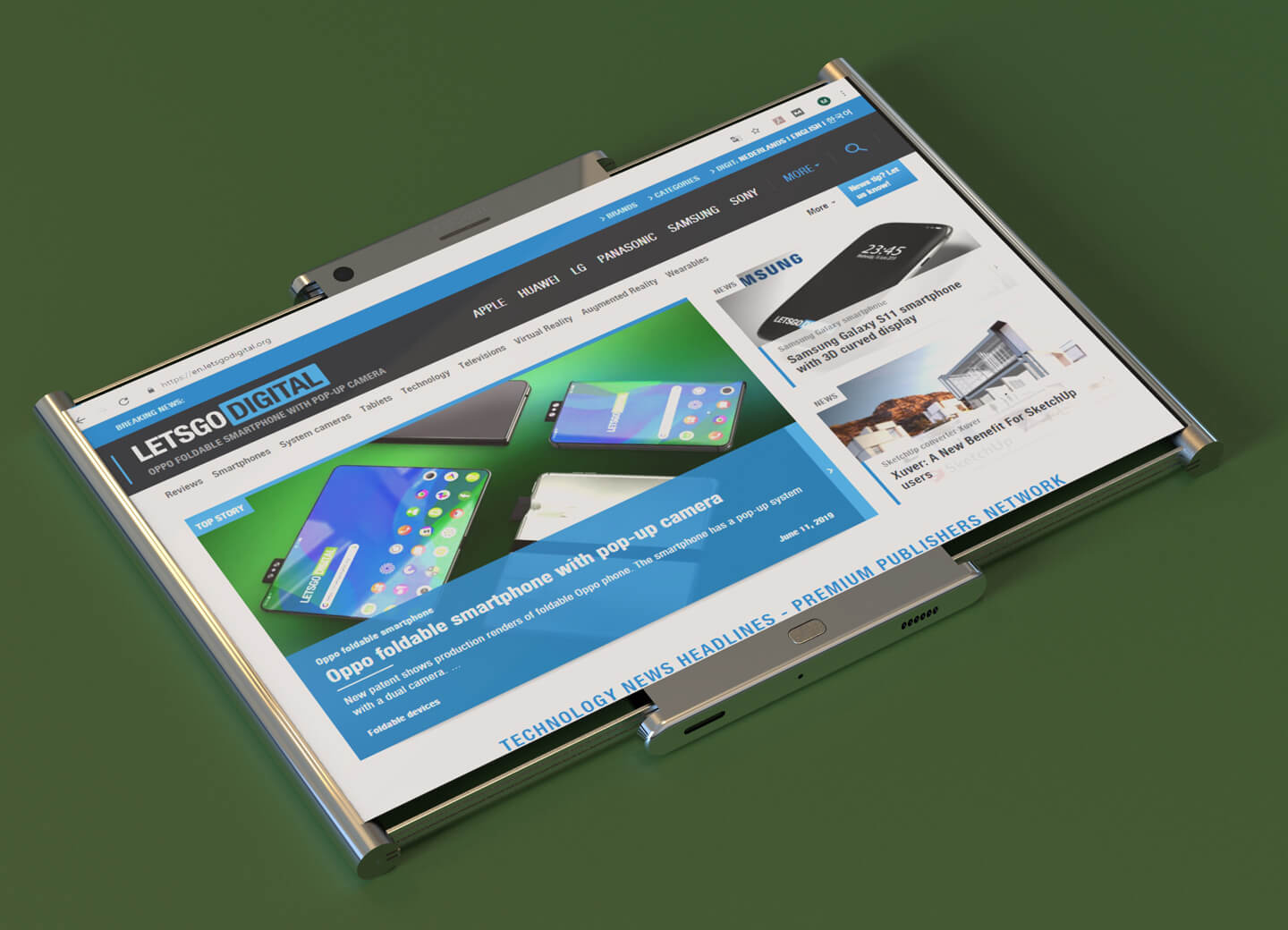 Smartphones with a flexible screen
A similar flexible screen as described in this patent has already been demonstrated by the Korean manufacturer two years ago. At SID Display Week 2016 Samsung showed a prototype of a rollable screen that could be pulled out to the side, as can be seen on the video below from tech site SlashGear.
The technical specifications were as follows; it was a 5.7-inch screen with a Full HD resolution and 386 ppi. The flexible display was only 0.3 mm thick, weighed 5 grams and had a roll radius of 10R.
Although it looks like a very ingenious invention, I do not expect that you can buy a product like this within the upcoming two years. Technological developments follow each other at a great pace, yet there is still a lot of room for improvement in the field of flexible screens.
Moreover, this patent has been applied for by Samsung Display. In other words, for the time being the focus is on the screen itself. The next phase is that the device itself will be patented by Samsung Electronics, including the required components and the operating method.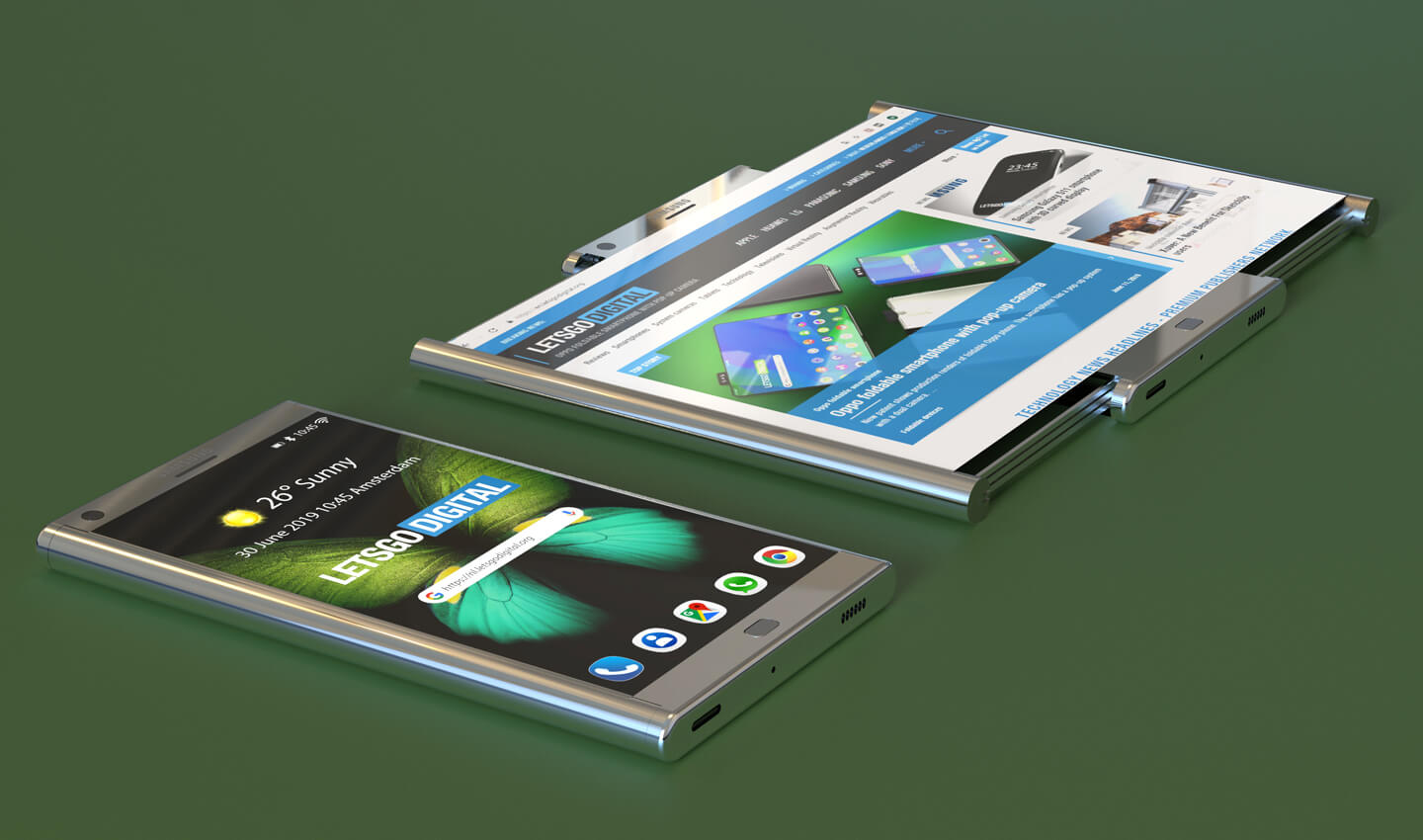 The actual launch of this new type of consumer electronics products does not go smoothly either. Although the first foldable phones look technically sophisticated, durability still appears to be an important issue.
A good example of this is of course the Galaxy Fold, Samsung's first foldable smartphone still has not been released. DJ Koh, the CEO from the Mobile Communication Business at Samsung Electronics acknowledged last week that the Fold was introduced too early. It was embarrassing, the chief executive added.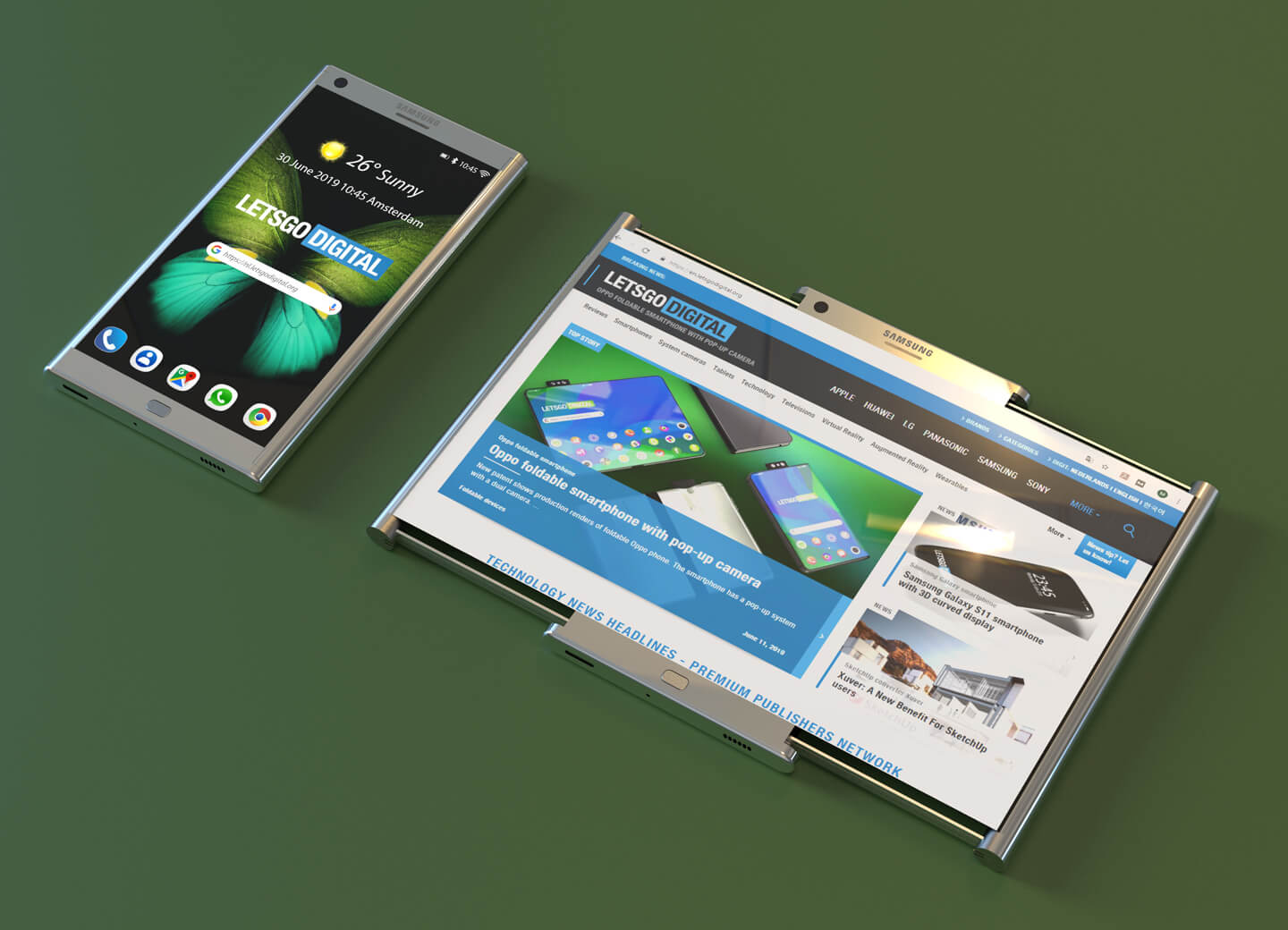 Although the additional tests and adjustments to the Samsung Galaxy Fold have now been completed, no new release date has yet been announced. But Samsung is not the only manufacturer that introduced a foldable smartphone at MWC 2019. Huawei was also there with the Mate X. But the launch of the Huawei Mate X has also been postponed until September this year.
Although the start of foldable phones is anything but perfect, this does not have to mean anything for the future. After all, technology breakthroughs cost a lot of time and effort. There is still plenty in the pipeline!
Here you can find the patent from Samsung.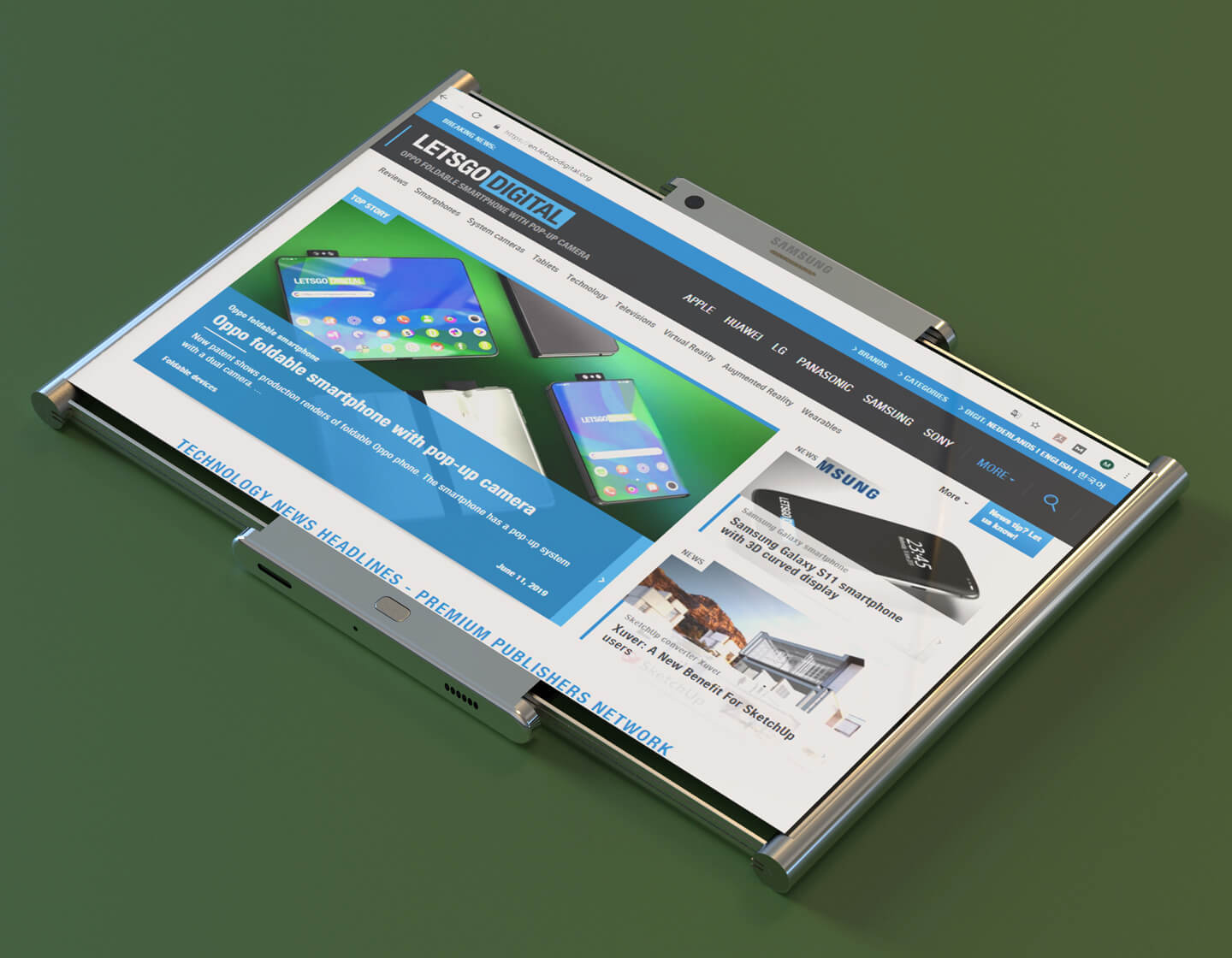 Note to editors: Feel free to use our high-resolution 3D renders to enhance your online publication. Please note that producing 3D product visualizations takes a lot of time and effort. You can use our artwork for free, as long as you include a clickable source link into your story. Thank you very much for understanding.