In February 2019 Samsung is expected to launch three Galaxy S10 devices. The S10 Lite will be the cheapest smartphone, it is believed this phone will carry model number SM-G970. Other model numbers known for the S10 series are the SM-G973 and the SM-G975. In addition, the 5G version which is expected to launch a few weeks later, will have model number SM-G977. Like its siblings the S10 Lite comes with an Infinity-O display and a hole-punch camera. Similar to the recently announced Galaxy A8s.

Samsung Galaxy S10 Lite benchmark test
The Galaxy S10 Lite with model number SM-G970 has just succeeded a browser test. Our Dutch friends over at Mobiel Kopen found a HTML5Test, which reveals some more details regarding the smartphone screen. The phone has a screen size of 360×760, which means the actual resolution will be 1080 x 2280 pixels. The S10 Lite offers an aspect ratio of 19:9.
Earlier rumors revealed the Galaxy S10 Lite will be driven by the Snapdragon 8150 processor with 4GB or 6GB RAM. In addition, the phone comes with 64GB or 128GB storage memory. It is expected the S10 Lite will feature a flat screen and no edge-to-edge screen like the S10 and S10 Plus.
Samsung will probably launch its new Galaxy S10 series during Mobile World Congress 2019. This annual fair will take place from February 25-28, 2019 in Barcelona, Spain.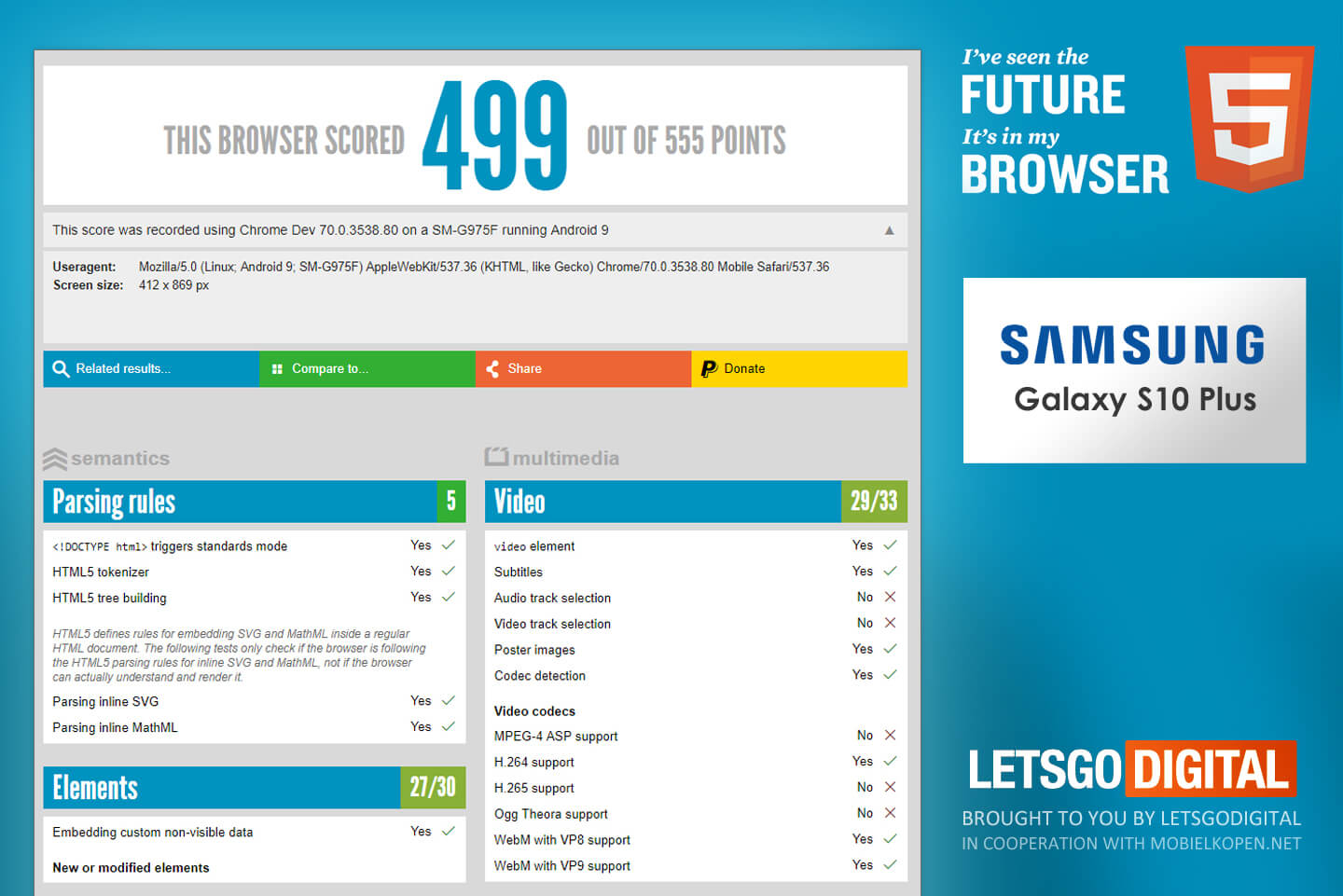 Samsung Galaxy S10 Plus
Update: After finishing this article, another benchmark appeared. This time it's model number SM-G975F, alleged the Galaxy S10 Plus. The HTML5Test reveals this phone has a screen size of 412×869 pixels, meaning the actual resolution will be 1440 x 3040 pixels. The S10 Plus will have a higher display resolution than the S10 Lite, but sports the same aspect ratio of 19:9. Remarkably the browser score for model number SM-G970F is higher (514 points) than that of the SM-G975F (499 points).