For some time now there have been rumors Samsung will announce the Galaxy A8 at the beginning of 2018. Earlier we assumed this model would be an addition to the current Galaxy A-series, consisting of the Galaxy A3, A5 and A7 models. But new information tells us the upcoming Galaxy A8 will replace the current Galaxy A5 2017 model.
Samsung Galaxy A8 2018
The Galaxy A 2018 series will come with a completely new bezel less design. Earlier on we already spotted the Galaxy A7 2018 model on the official Samsung support page. This phone also received various certifications.
In addition, we have spoken about the A8 2018 model. This new model will most likely feature a Dual Selfie camera, as we could see in a leaked picture of the device. As we didn't expect the A5 or A7 to feature a dual camera at the front we assumed it would be a new model.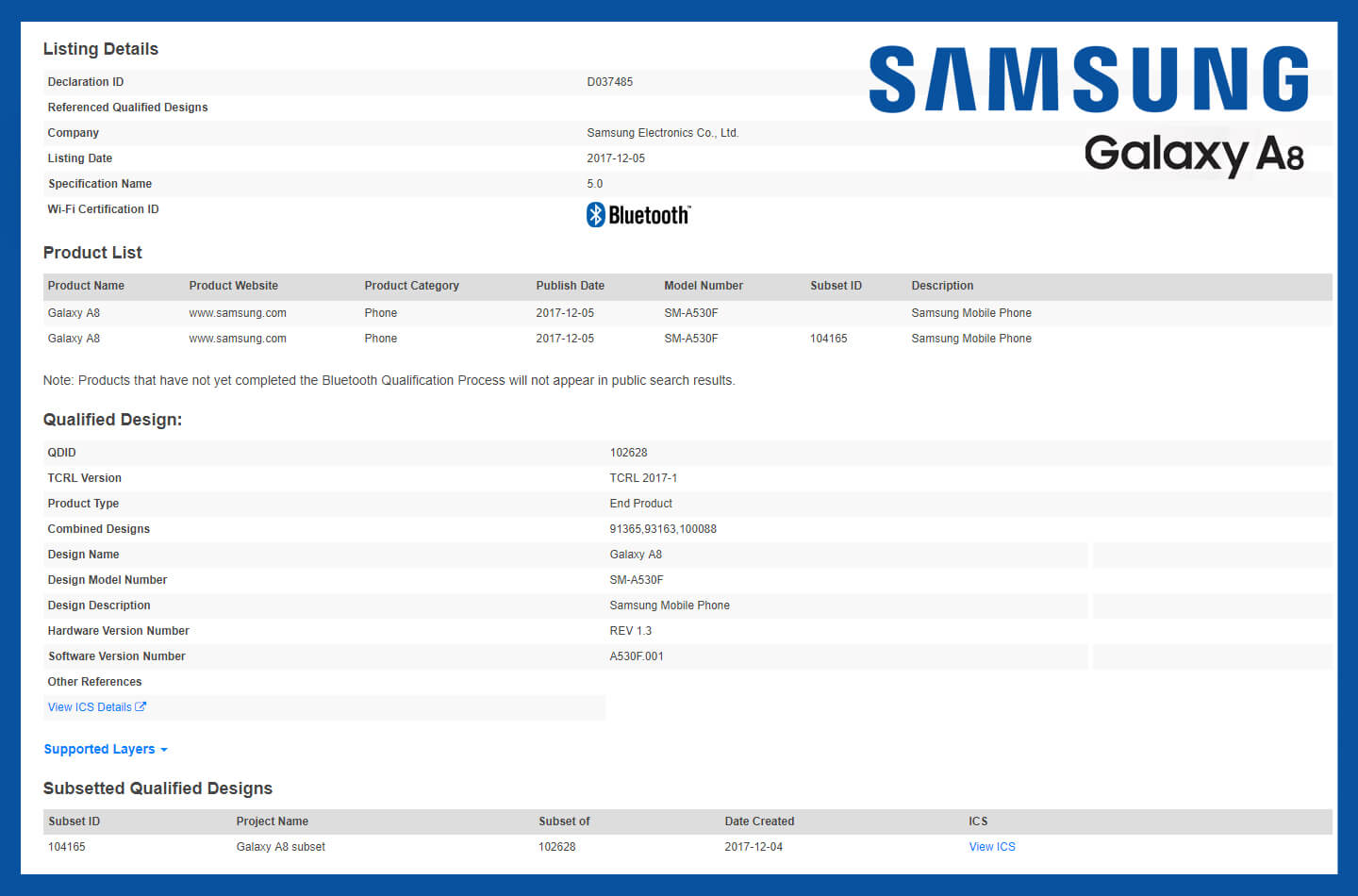 Galaxy A8 receives Bluetooth 5.0 certification
The Galaxy A8 just received Bluetooth 5.0 certification and thus the actual model number is now known too. The Samsung Galaxy A8 will have model number SM-A530F. This model number corresponds with the former Galaxy A5 model numbers and so it seems Samsung is about to change the name of its A-series line-up.
Not long ago Twitter tipster @MMDJ assumed the names of the current Galaxy A-series would change. But till now no hard proof was available. The official Bluetooth listing tells us he was right.
Samsung Galaxy A8+ will replace Galaxy A7 2017
In addition, the Galaxy A7 2018 model has model number SM-A730F. Again we assumed it would be the A7 2018, but new information tells us this model might be called the Galaxy A8+. A picture of the handset appeared online, showing both the modelnumber and the name of the device. It would also be unlogical for Samsung to call its high-end phone the A7 and the lower end the A8.
In addition, during the past months no information has appeared on the Galaxy A3 2018 model. Normally a phone gets certified and so we know a new model is coming up. But the A3 didn't appear anywhere, so it seems the 2018 line-up will consist only of the Galaxy A8 and the Galaxy A8+.
The Bluetooth certification can be seen here.