At the MWC 2018, Huawei introduced a surprising smartphone. The Huawei P20 Pro is the world's first mobile phone with a triple camera. Since then, various rumors have been circulating about other future smartphone models with three rear cameras. In addition to the Samsung Galaxy S10 there seems to be another smartphone in development with a triple camera, namely the iPhone X Plus.

Apple iPhone X Plus
Earlier this month, Gorden Kelly, tech editor at Forbes, published an exclusive story about Apple's upcoming iPhone models. Accessory manufacturer Ghostek has send Forbes design schematics of both the budget iPhone X and the larger iPhone X Plus. These illustrations revealed that the new flagship model will have a triple camera.
LetsGoDigital has teamed up with Concept Creator, who designed several exclusive renders of the iPhone with a triple camera. These give a good idea of what Apple's next flagship might look like. There is still some uncertainty about the placement of the flash, as it was not visible on the schematic drawings. It could be that the flash will eventually be positioned to the right of the three cameras.
For the time being, it is still unclear what kind of camera setup Apple will choose. Huawei combines a primary camera (40MP) with a telephoto lens (8MP) and a monochrome camera (20MP). The three cameras of the P20 Pro enable users to make significantly better photos in poor lighting conditions. Thanks to the triple camera it is also possible to use 3x optical zoom, without loss of image quality. In addition, a 5x hybrid zoom function is available.
The iPhone X 2017 model has a 12 megapixel dual camera with a wide-angle lens and telephoto lens. The camera has optical image stabilization and 2x optical zoom. Thanks to an improved telelens, the device already performs significantly better in poor lighting conditions than previous models. Apple seems to be particularly interested in the possibility to equip the iPhone with more optical zoom.
The iPhone X Plus will be Apple's largest smartphone, at least as far as display size is concerned. A 6.5-inch display is expected, which is considerably larger than the 5.8″ OLED screen of the iPhone X 2017. The controversial notch will be retained on the 2018 model as well. However, the total dimensions will not be larger than the iPhone 8 Plus, this has everything to do with the narrower bezels of the iPhone X Plus.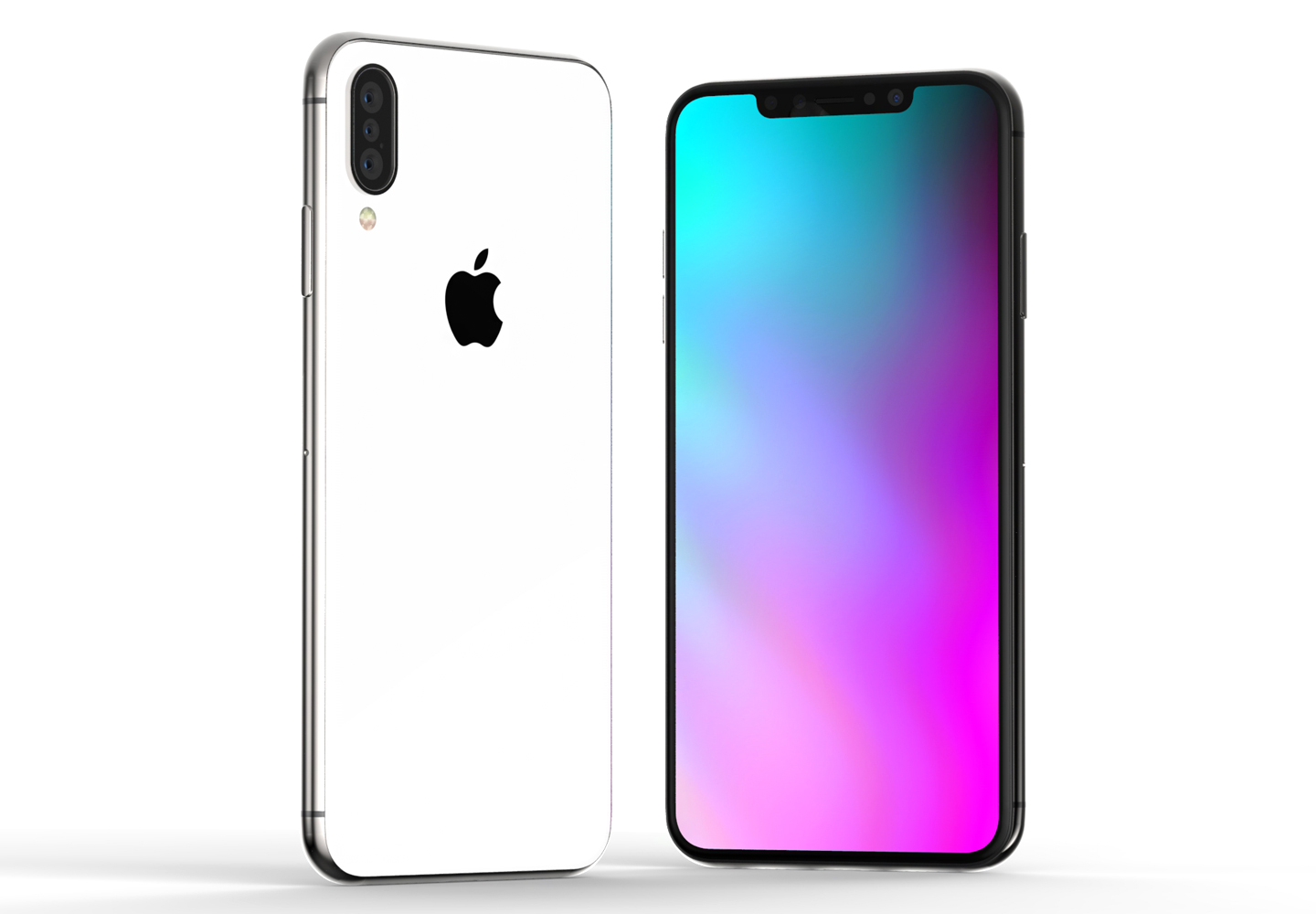 iPhone 2019 model with triple camera
Moreover, at this moment it is not entirely certain that the 2018 model will have three cameras integrated. We may have to wait another year for this device. Forbes is not the only one that reports Apple has an iPhone in development with three camera lenses. Several large media outlets have heard similar information from different sources, however, all of them speak of a release in the second half of 2019.
Beginning of this month The Korea Herald reported that both the Galaxy S10 and the high-end iPhone 2019 model will have three camera lenses equipped on the rear side. More than two months ago, a similar message was distributed in Taiwan, by the Economic Daily News. Apple wants to integrate 5x optical zoom, the report stated. In the meantime, CNET also received an investors note, which stated that in 2019 an iPhone is planned with a triple camera, all three cameras would have 12 megapixel resolution.

Budget iPhone X / iPhone 9
Besides the Plus version, Apple also has a budget iPhone X in the making. This smartphone seems to be equipped with a 6.1-inch LCD display. As it will be Apple´s first LCD iPhone with a notch it is unclear what the name of this smartphone will be. Apple may consider to call this device the iPhone 9, or it will be placed within the iPhone X model range. In any case, it will be the cheapest iPhone model for 2018.
It is expected that this smartphone features a single rear camera. The 3D touch functionality will be missing on this model. The dimensions of the new device are; 147.12 x 71.52mm. Apple also intends to make this iPhone considerably cheaper, in order to reach a larger target group.
Moreover, this model has to compensate for the deleted iPhone SE 2. For a long time it was assumed that this cheap and small iPhone would appear in June 2018. However, at the WWDC keynote earlier this month, there was no glimpse of this mini iPhone. It is therefore assumed that the iPhone SE 2 has been deleted at the last moment.
In addition, a third variant is expected. This model will be positioned between the iPhone X Plus and the budget iPhone X. This device will replace the current iPhone X and will be equipped with a double camera system. Also in terms of screen dimensions this device will not deviate from the 2017 model. The new Apple smartphones are expected to arrive in the autumn of 2018.
© Copyright photos belong to LetsGoDigital – thanks to Concept Creator.