The Chinese company Xiaomi is determined to conquer the smartphone market with innovative smartphones at an affordable price. Time and time again, Xiaomi presents advanced and original products. Like the Mi Mix Alpha which was introduced yesterday as the world's first smartphone with a display that (almost) completely wraps around the device. Another innovation the company is currently working on is an under-screen camera. By integrating the selfie camera behind the display, the notch (and all other alternatives) is no longer needed.
In June 2019 both Xiaomi and Oppo demonstrated a prototype phone with an under-screen camera. Xiaomi also explained about the technology used to implement such a selfie-camera into a smartphone. Although the image quality is not yet as good as a regular selfie-camera, this advanced technology will be further developed in the coming months. A newly published patent shows Xiaomi may already develop a dual under-screen camera.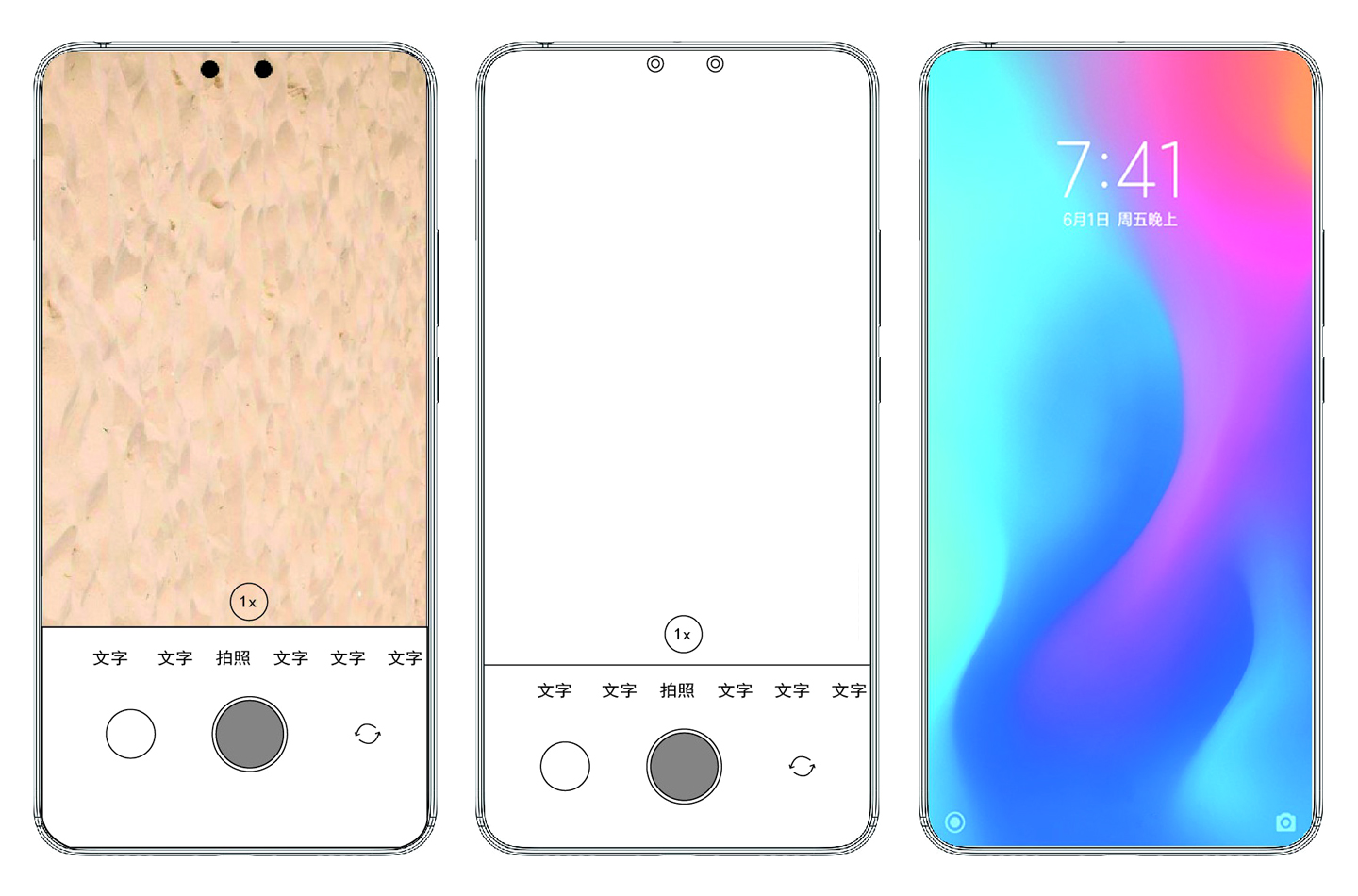 The Dutch telecom site Mobiel Kopen has discovered a patent from Xiaomi of a full screen smartphone with a dual under-screen camera. The design patent was applied for in September 2018 with CNIPA (China National Intellectual Property Administration), after which the patent was published on September 20, 2019.
Five patent sketches are combined with a short explanation. In the main menu the user clicks on the camera icon at the bottom of the interface to activate the selfie camera. As soon as the front-camera is activated information such as the time and date disappears, and the shooting control bar appears at the bottom. The front camera can then be observed at the top of the interface.
It should be noted that for now it stays unclear whether it are truly two cameras or a camera and a sensor (or flash). Earlier this month LetsGoDigital published about a patent for a Huawei smartphone with under-screen camera. This was not a design-, but an in-depth utility patent. It seems Huawei makes use of similar technology, remarkable enough the patent sketches also showed a 'dual camera'. However, in the patent description it was stated that the camera will be accompanied with a LED indicator, light emitter, sensor and even the flash is placed behind the display. Perhaps Xiaomi will choose for a similar setup.
Anyway, it seems logical that the first smartphone with an under-screen camera will be officially introduced in 2020. Perhaps we will see the first devices at MWC 2020, which takes place from February 24 – 27 in Barcelona, Spain.