Last week, LetsGoDigital reported about a foldable smartphone from Xiaomi with a pop-up camera. It strongly appears that Xiaomi has more futuristic phone models in development. This time it is a rollable smartphone with a retractable screen. It appears to be a kind of advanced version of the extendable smartphone that Xiaomi patented last year. This time, not only the design, but also the technology behind it is described.
The first retractable, rollable smartphones are expected next year. LG already announced during the presentation of the Wing that it has such a type of smartphone in development, Oppo also recently showed a working rollable phone, called the Oppo X 2021. Samsung already brought a retractable Galaxy phone to CES 2020 at the beginning of this year.
Whether Xiaomi also sees a chance to participate in this new hype is still unknown, but certainly not inconceivable. Xiaomi has already shown a dual foldable phone last year, as well as a surround display smartphone, called the Xiaomi Mi Mix Alpha.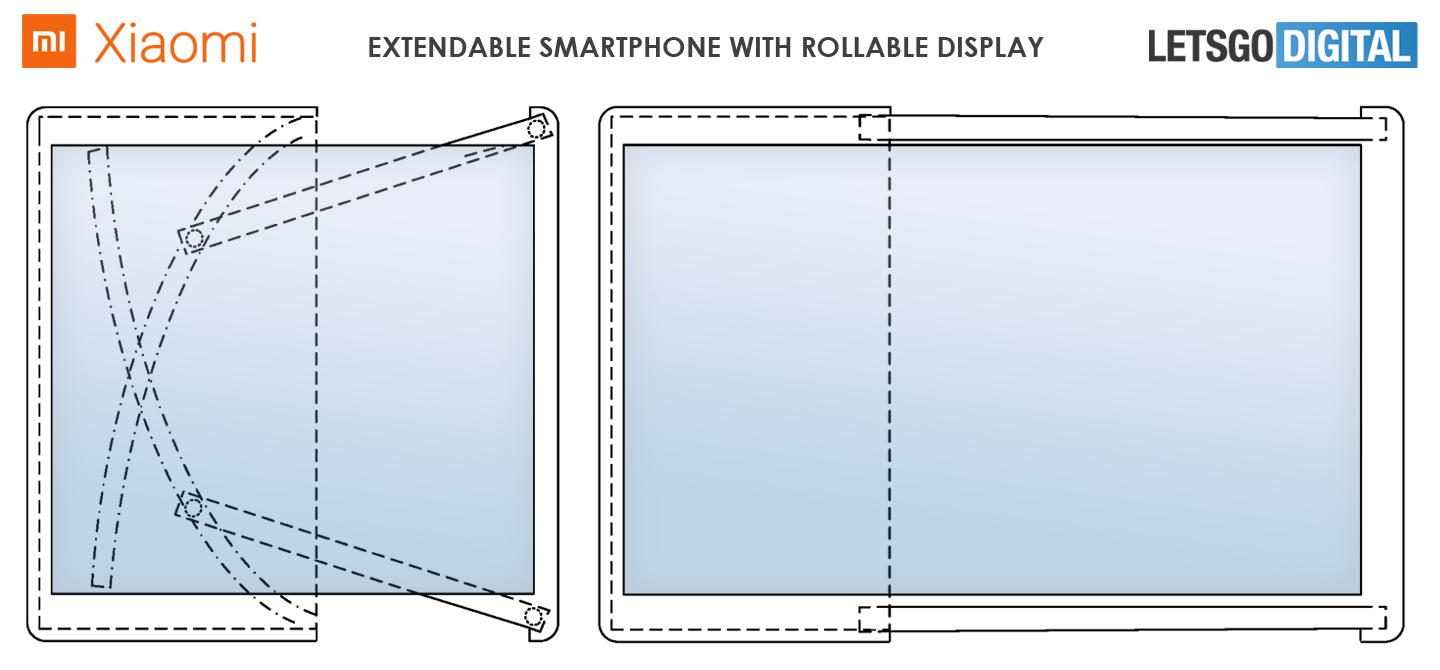 Xiaomi retractable smartphone with dual display
At the end of 2019, Beijing Xiaomi Mobile Software filed a patent with the USPTO (United States Patent and Trademark Office) for a "Terminal with flexible screen". The documentation was approved on October 29, 2020 and also published in the WIPO (World Intellectual Property Office) database.
To better visualize the patented smartphone technology, graphic designer Jermaine Smit, online known as Concept Creator, made a series of product renders based on the documentation. The video below of Xiaomi's rollable smartphone is also designed by Jermaine.
It contains a Xiaomi smartphone with two screens. A regular display is fitted on the back. By turning the device over, you can use the flexible, rollable screen. A physical button is placed on the top of the smartphone, with which you can deactivate the screen-lock, after which the rollout process can take place. This button also functions as an on / off button.
The user can determine how far the display is extended. The display can be enlarged to almost 200% in width. This creates a large tablet-sized screen. The displayed content is automatically adjusted according to the available display size.
An ingenious support mechanism is installed in the housing, which ensures that the screen can be rolled in and out, without visible creases in the screen. This way you can exert some pressure on the screen without any problems.
This is an important part of the patented technology and will also be significantly related to the user experience and durability of the device. After all, the device should feel sturdy no matter how you use it. In the top frame a  WiFi and GPS antenna will also be included.
In terms of operation, depending on the application you are using, the screen on the other side will be automatically deactivated – to save on battery. In some cases, however, it will also be possible to use both displays at the same time – for example while taking pictures.
Unfortunately, it is not clear from the patent images and documentation how the camera system of this Xiaomi rollable smartphone will look like. For the renders, Jermaine has chosen to integrate a vertical camera system – as we have seen with the Mi Mix Alpha, among other models. After all, it is very unlikely Xiaomi will release such a high-end smartphone without a camera.
By installing both a camera and a display at the rear, it is not necessary to integrate a camera at the front too. The second display allows users to take selfies with the main camera system. It is not the first time that LetsGoDigital reports about a dual display smartphone from Xiaomi. However, apart from the Mi Mix Alpha, which by the way was never released, Xiaomi has not yet introduced smartphones with a dual display.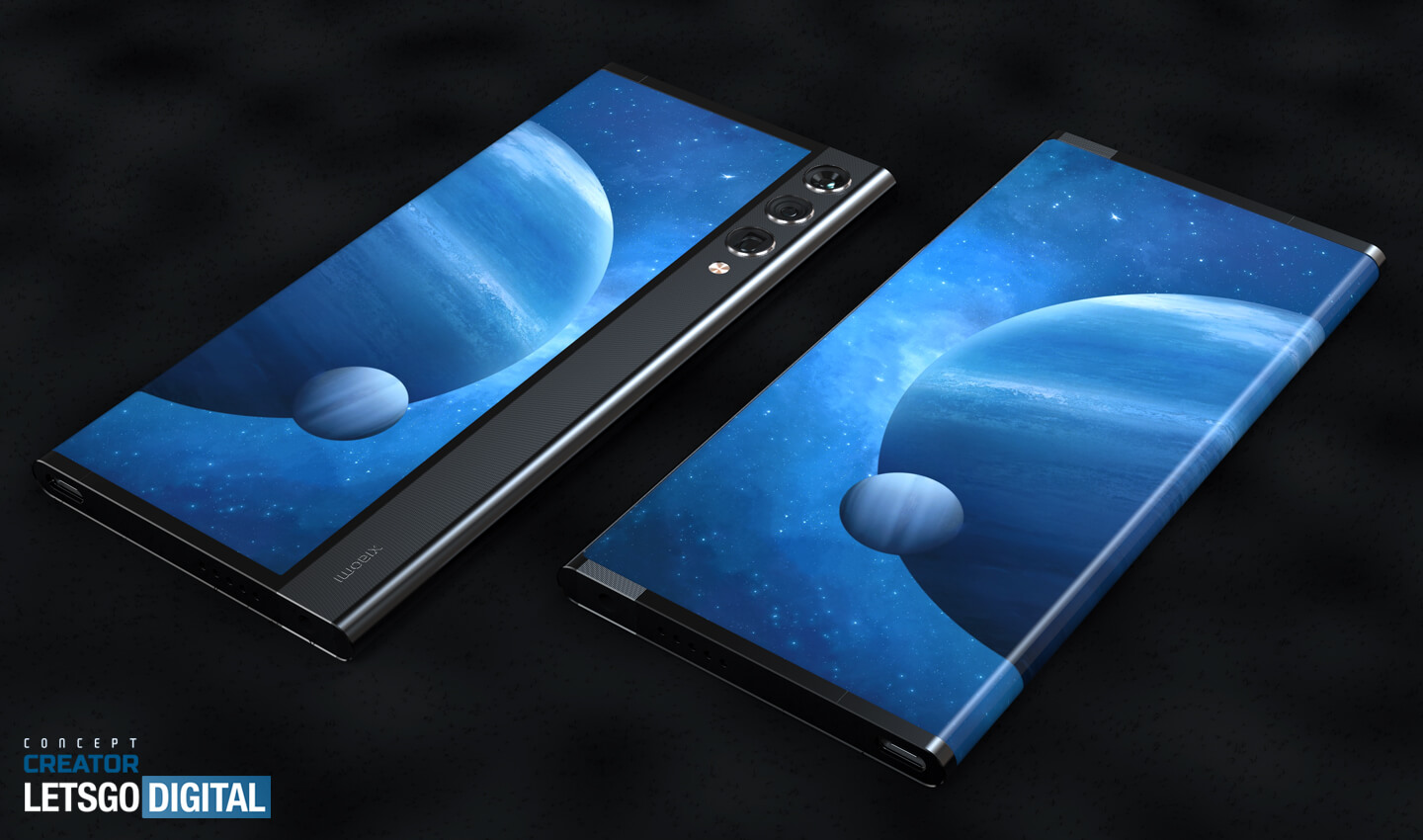 Rollable smartphones in 2021
The question remains to what extent there is a market for a dual display rollable smartphone. It is expected that the sales price of rollable smartphones will be higher than the current foldable smartphone models.
If Xiaomi indeed decides to equip this model with a second display, then this will undoubtedly lead to even higher production costs – which will be reflected in the sales price.
Ultimately, the price seems to be the main reason the Mi Mix Alpha was never released – it was reported at the time of launch that this smartphone would get a suggested retail price of around € 2,550. Although this surround display smartphone is certainly unique, a sales price of over € 2,500 will be far too much of a good thing for most consumers.
In addition, the question remains how many phone manufacturers will actually dare to release a retractable smartphone in the coming year.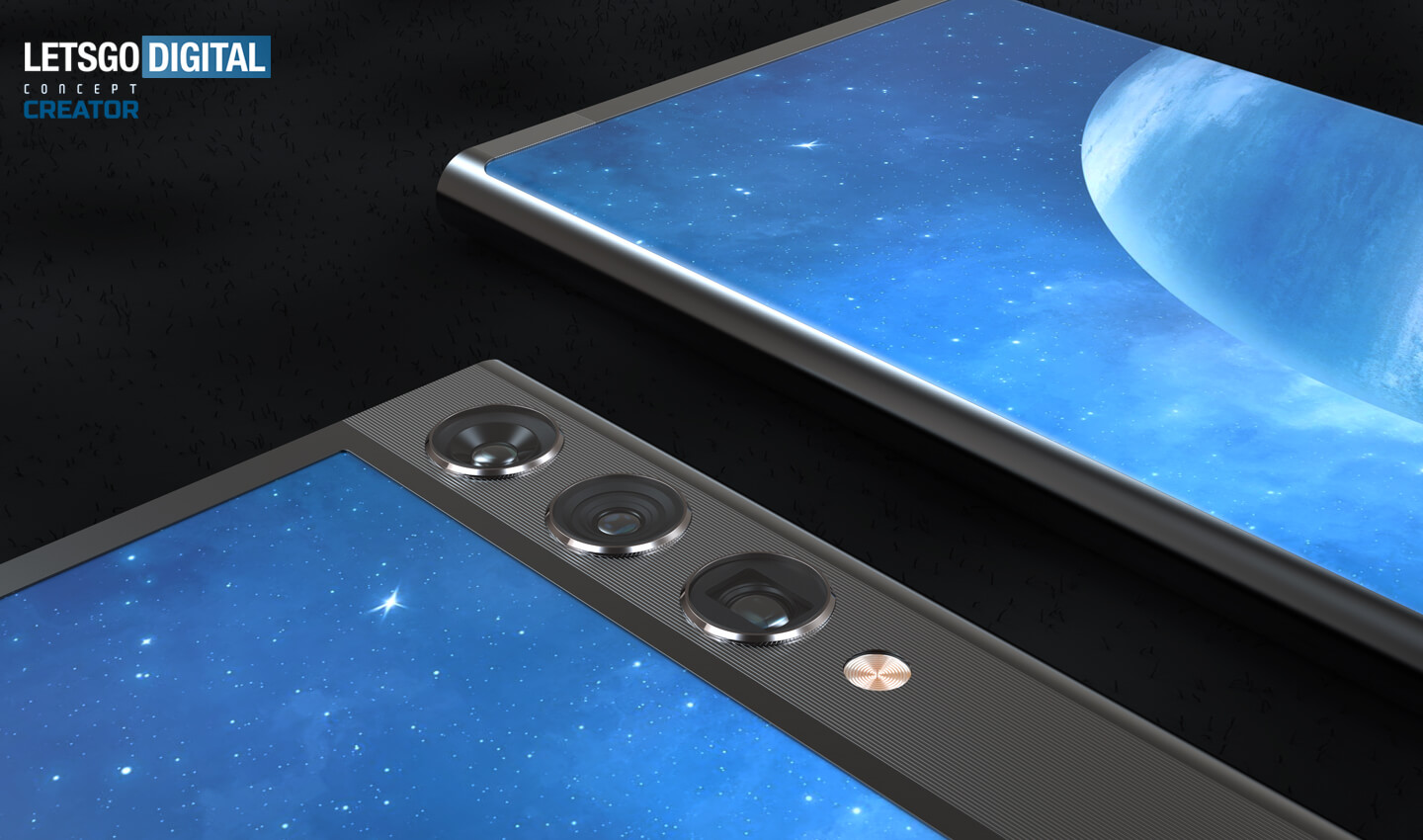 LG seems to be the first manufacturer to release a rollable smartphone. This device will probably be marketed under the name LG Rollable or LG Slide. However, last week it became clear that the sales figures of the latest LG smartphones are again very disappointing – including the LG Velvet and the LG Wing. LG Electronics' mobile division seems to be on the eve of a major reorganization. Whether this will also delay the LG Rollable is still unknown.
Although the shown Oppo X 2021 rollable smartphone is fully functional, Oppo has already indicated that it has no direct plans to put this device on the market. This will heavily depend on the demand for such models. Undoubtedly, it will also be important what the competition will do.
The South Korean manufacturer Samsung already showed a retractable smartphone to a limited group of people at the beginning of this year, during the international CES 2020 fair. However, it seems that Samsung does not direct intend to actually introduce this device. Instead, Samsung seems to see more of a future in foldable phones – with or without a dual folding screen.
All in all, it is therefore quite conceivable that it will take some time before you can actually buy a rollable smartphone. Nevertheless, several manufacturers do seem to see a future in such a design.
The technology is already there, time will have to ensure that this type of device can also be produced at an affordable price, which will undoubtedly contribute to a greater demand for this type of models.
Here you can take a look the documentation of the Xiaomi rollable smartphone.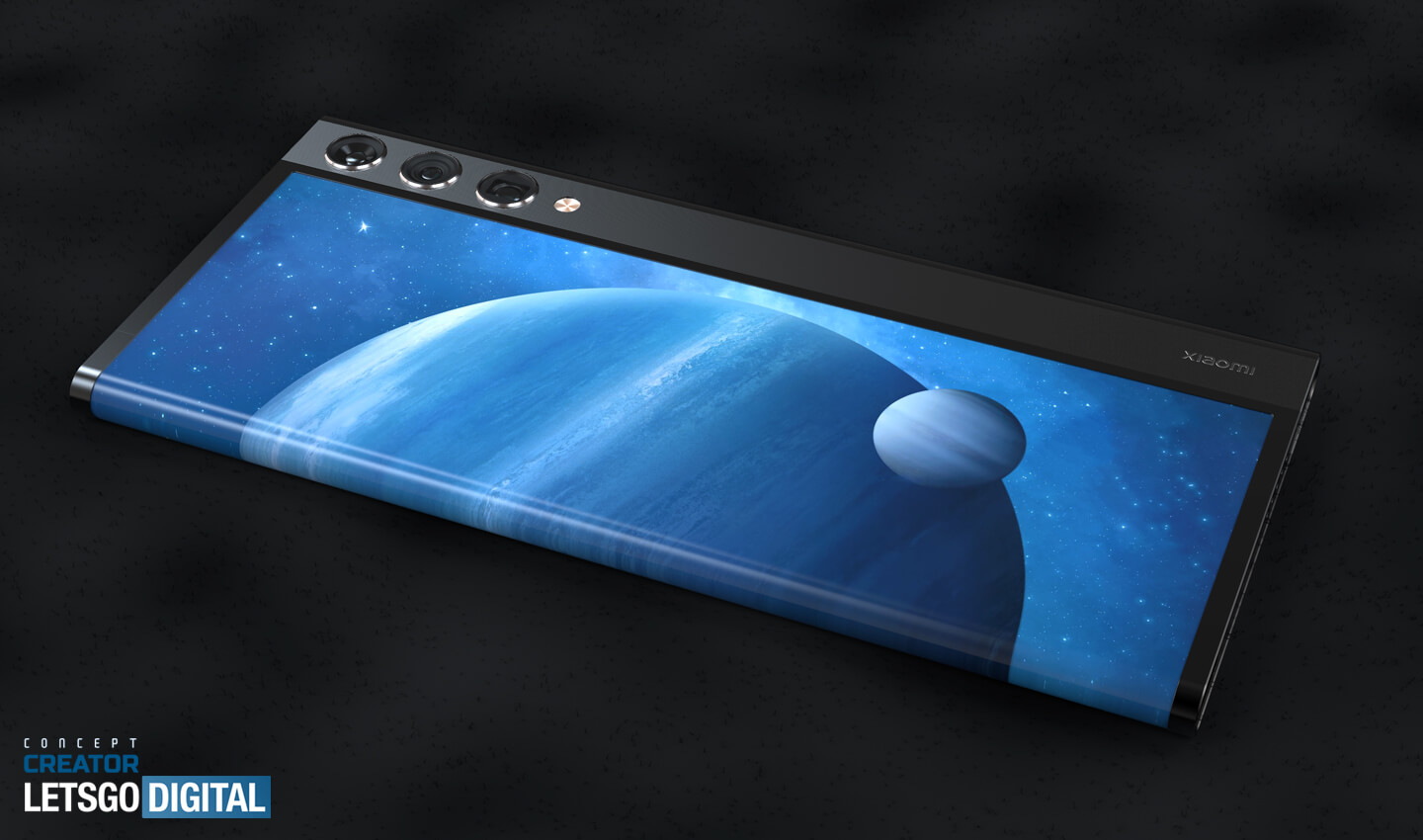 Note to editors: The 3D renders and product video presented in this publication are made in collaboration with Jermaine Smit (aka Concept Creator). The images are based on the patent drawings from Xiaomi. You are allowed to use the created images for free if you include a clickable source link into your publication. Thank you very much for understanding.