For more than a decade, DVD have gone from essential viewing devices to less popular home entertainment, it is clearly losing its appeal. However, it is still a key traditional way to feel the culture of the past for those who like old movies and TV series. In terms of current computer systems and devices, it is difficult to watch the content of a DVD on a personal computer. Even the latest version of Windows does not have any built-in gadgets for playing and ripping DVDs. Although the software market has provided a large number of free and paid products to solve this problem, many of them are not really user-friendly and/or comprehensive.
Fortunately, there are still better things coming to you. WonderFox DVD Ripper Pro might just be the program you are seeking for. In the following review we will provide more details about this professional software program that provides you with a quick and secure solution on ripping DVDs.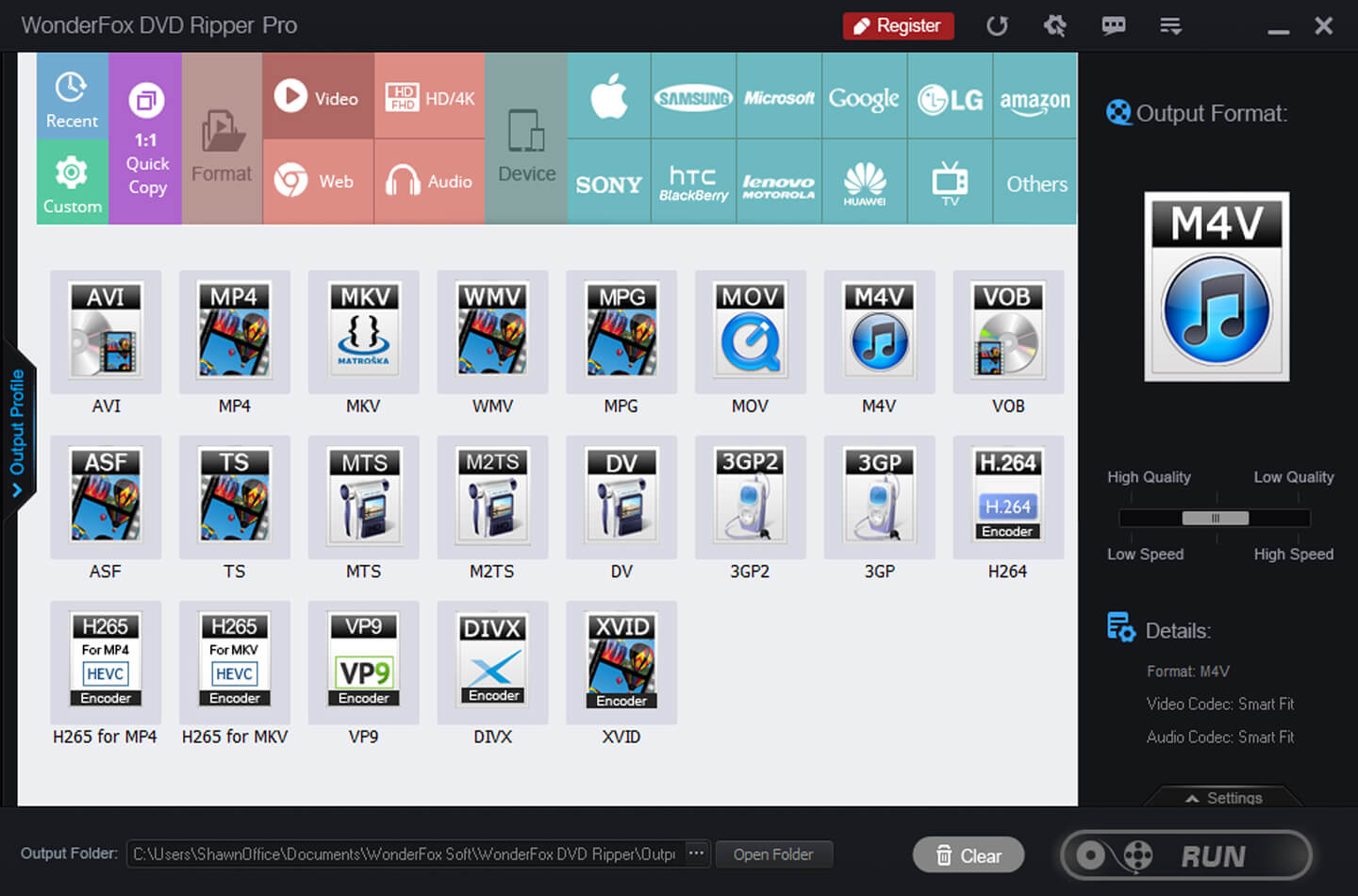 What kind of software program is it?
WonderFox DVD Ripper Pro is a DVD ripping tool for Windows that enables you to rip any DVD file into a digital format for playback on mobile and wall-mounted devices. In addition, it comes with a variety of features such as editing videos, custom settings and more to help you solve DVD-related problems in one stop. Let's take a look at each one.
The most notable thing in the process of ripping a DVD is how to quickly find the correct main movie from a large number of titles. Some commercial DVDs will choose to embed meaningless content in a DVD for promotional purposes, which will increase the difficulty of ripping DVDs and consume more time of users. WonderFox DVD Ripper Pro analyzes the disk content and automatically finds the correct title, so you don't have to manually check every title for ripping DVD smoothly.
The DVD Ripper Pro software from WonderFox is equipped with more than 300 digital formats and devices. With it you can easily rip DVDs to MP4, MPG, AVI, MKV, WMV, VOB, MOV, M4V and other formats for playback on portable devices such as Samsung, Apple, Sony, Huawei, Nokia, Lenovo, etc.
With advanced hardware acceleration technology support, WonderFox DVD Ripper Pro allows you to rip DVDs much faster than most other programs. It takes only 20 minutes to rip 150 minutes of movies to MP4, AVI, MOV, etc, with less time to back up DVD to MPG, 5 – 10 minutes is ideal without any loss of quality.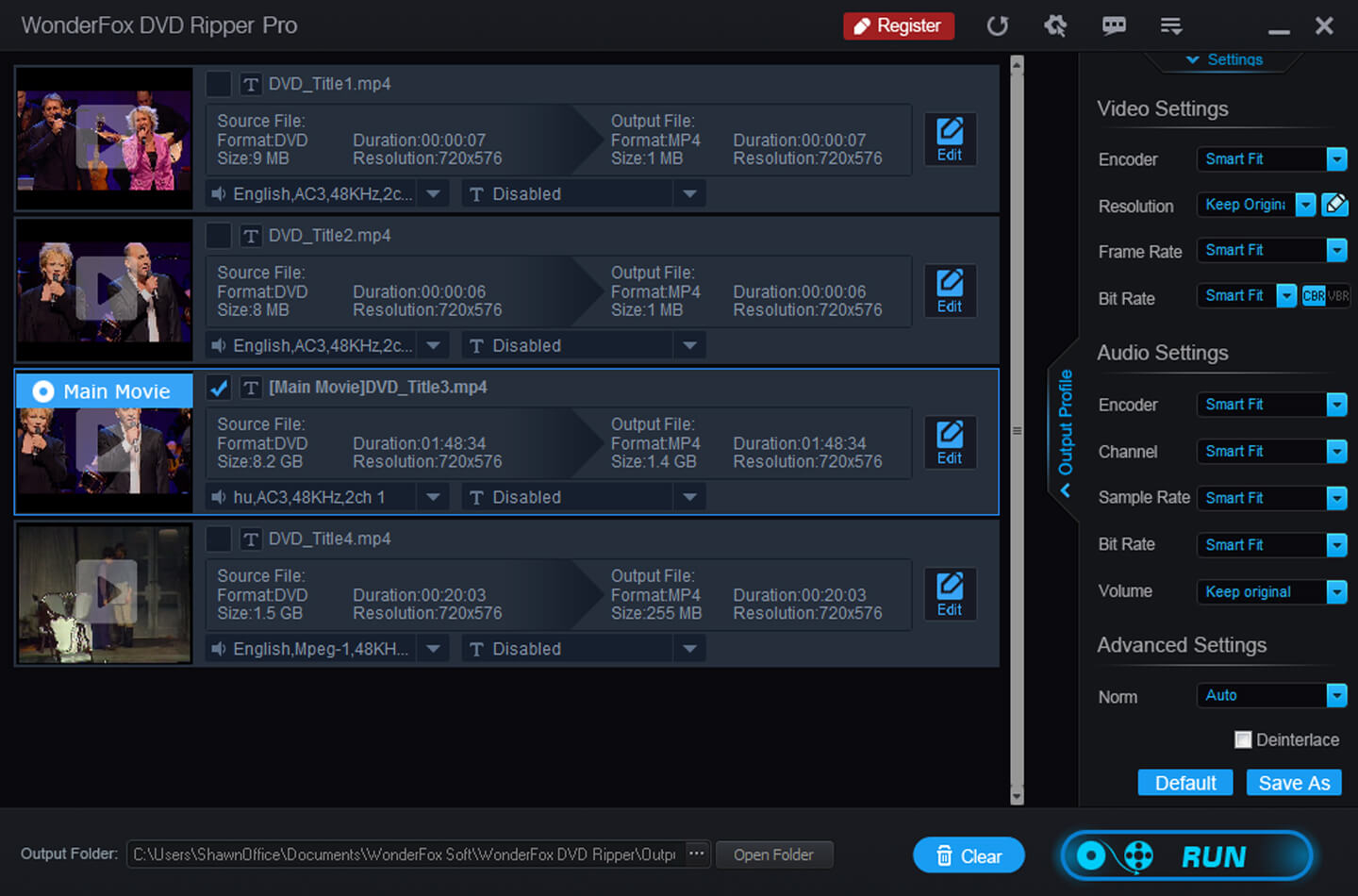 Other features of WonderFox DVD Ripper Pro
• Quickly and securely copy encrypted videos by bypassing or removing Region Code protection, RCE, Multi-angle, DVD, CSS, Disney X-Project DRM, UOP.
• 1:1 copy DVD to ISO Image and DVD Folder.
• Back up DVDs to audio formats.
• Edit videos without difficulty.
• Extract audio files from DVD.
• Make ringtones in an easy way.
How to rip DVDs?
WonderFox DVD Ripper Pro is an easy to use program, within a few clicks you will be able to rip a DVD. Here are the detailed steps:
Step 1: Open the software and select the DVD source.
Download the software on the official website and follow the instructions to install it on your computer, then open the software interface and start selecting a suitable source.
Step 2: Choose the output device and format.
When the DVD file is loaded, click on the right side of the interface to select the output format and device you need.
Step 3: Hit "Run" button to rip DVD.
Pros
• Easy to use.
• Fast processing speed.
• The output quality is consistent with the source file.
• Affordable and feature-rich.
Cons
• Windows systems only.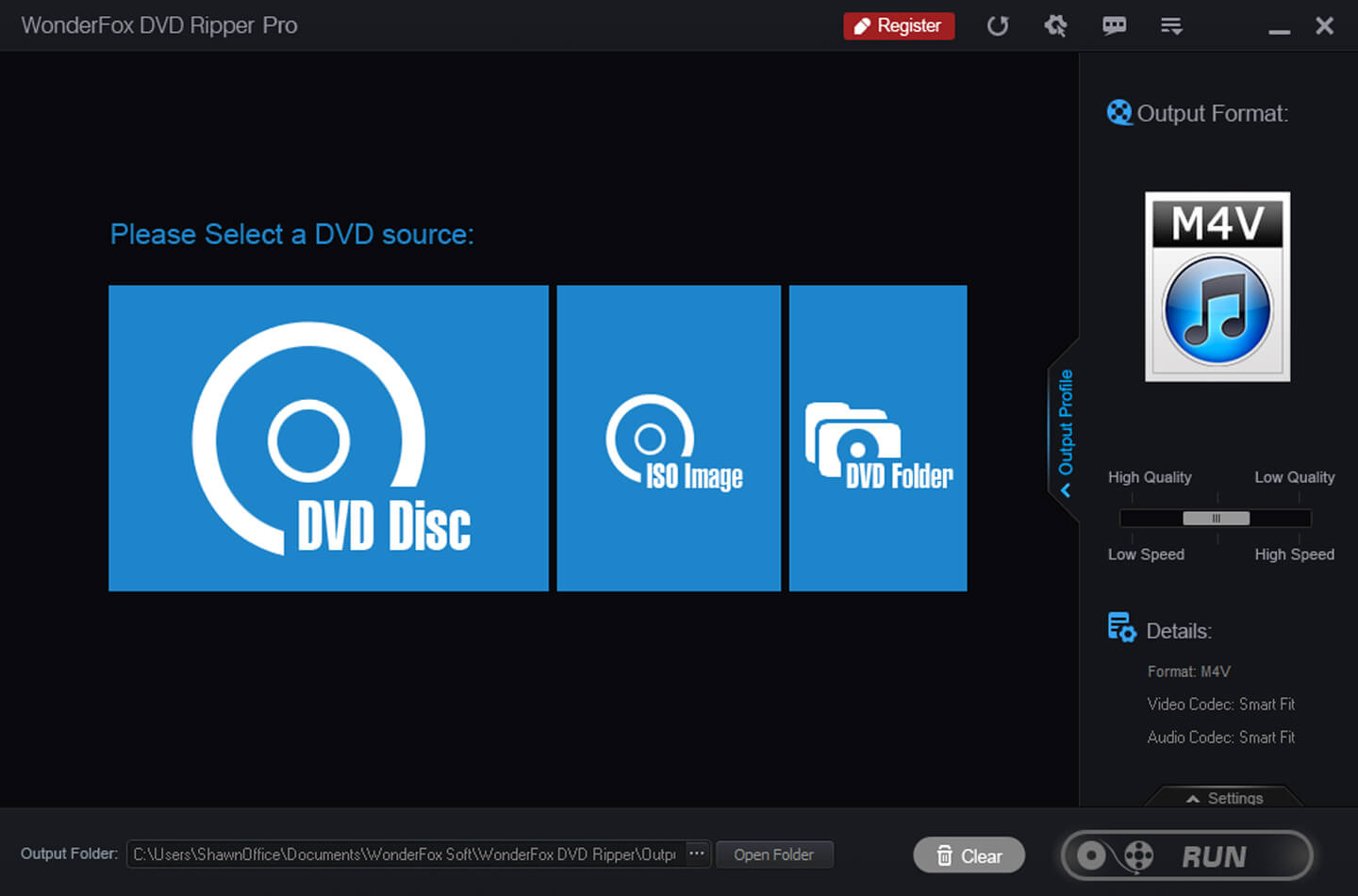 WonderFox DVD Ripper Pro review conclusion
WonderFox DVD Ripper Pro is a useful and efficient tool with a rich of features. Installing the program is quick and smooth on a Windows PC. In addition the company offers technical support, you can send an email to their official account if you have any questions when using the product. The company's website also offers various relevant tutorial articles to help you out, there are a lot of guides listed too.
During our test period, we found the software to be very good in terms of the ripping speed and the output quality. You can download a free trial and try it yourself. If you want to buy the complete software several packages are on offer, from 1 license to a family license for 3 PCs. Prices range from $30 up to $90 USD. Visit the website for actual price information as the company often offers interesting discount packages as well.