Vestel is one of the largest electronics companies in Turkey. Besides televisions and monitors, the Turkish manufacturer also produces household appliances and mobile devices, including smartphones and tablets. Since 2014 the budget smartphone models from Vestel are also available outside of Turkey, namely in Europe.

Vestel smartphones in Turkey
Halfway this year Turkey and the US were facing political issues. After the US had announced to impose sanctions and import tariffs on Turkish import products, the Turkish president Erdogan has called on Turkish citizens to boycott Apple iPhones and to buy Vestel smartphones instead, as reported by Fortune.
It was noted by Trusted Reviews that the Vestel phones do incorporate a Qualcomm processor, which is of course also an US-based manufacturer. However, it seems the Turkish manufacturer has now made an agreement with the Taiwanese competitor MediaTek.
The Venus Z20, which was introduced at MWC 2018, was powered by a 2.2Ghz octa-core Qualcomm 630 processor with 4GB of RAM. It's successor was announced end of August at IFA 2018, the Venus Z30 features a octa-core Mediatek Helio P23 SoC.
This was also the first Vestel smartphone with a notch. The Venus Z30 sports a 6.18-inch Full HD+ display with a 19:9 aspect ratio. A 16 megapixel selfie-camera is built-in, that also offers support for Face Unlock. In addition, the phone features a 16 + 2 MP dual camera with true-tone LED flash and a fingerprint sensor.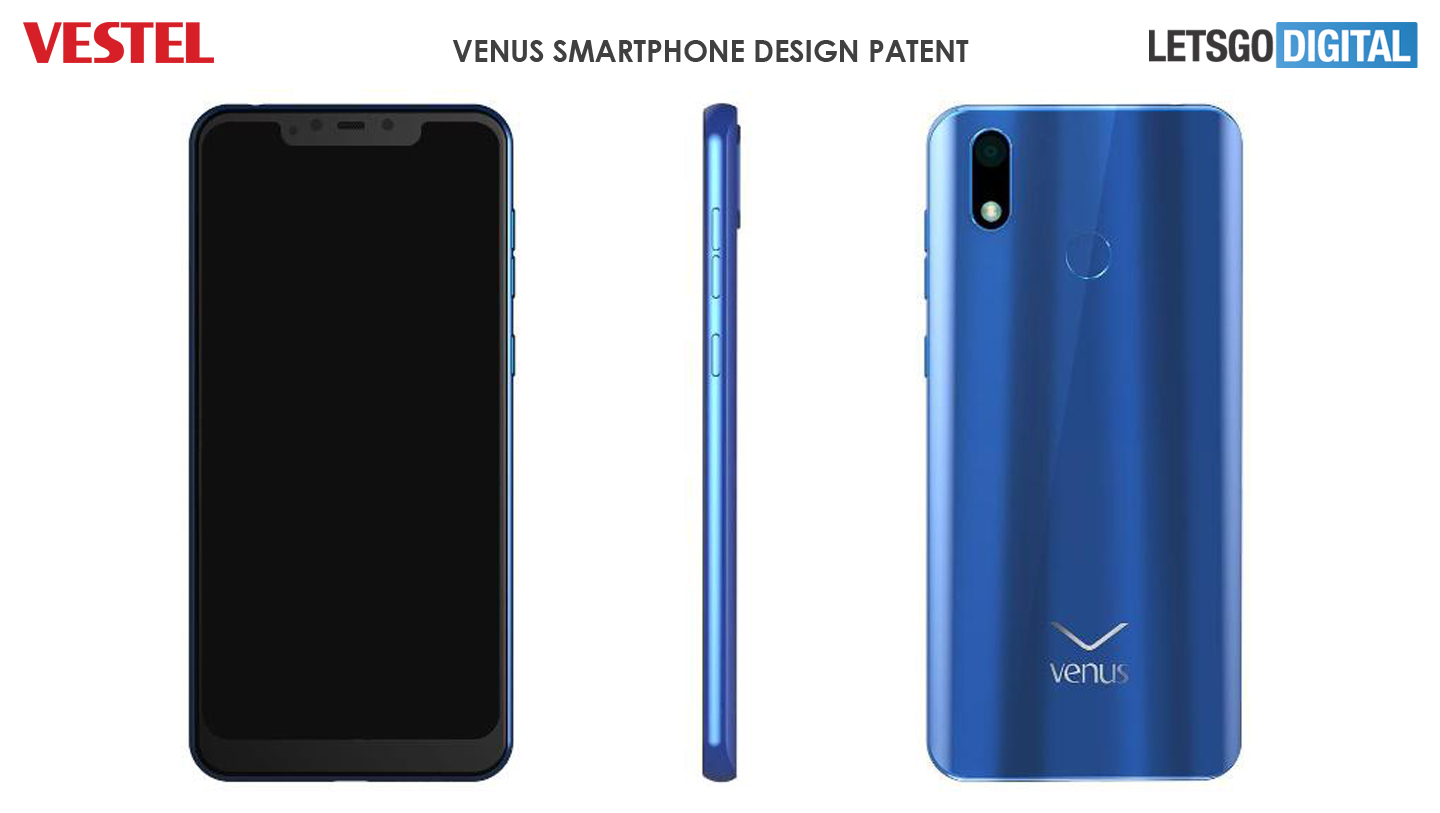 Vestel Venus Z40 smartphone
So far most Vestel smartphones have a large bezel, except for the Venus Z30. It seems we may soon see a successor of this phone, the Venus Z40. In September 2018 Vestel Elektronik has filed a design patent with the Turk Patent office. The patent has now been approved and includes multiple color images of a new Vestel Venus smartphone with notch.
The render images show the front, back and side of the phone. It's colored in blue. Like the Venus Z30 we see a notch on the front. The rear contains a dual camera and a flash. The camera setup is located on the left side, instead of in the middle. The location of the fingerprint sensor has been unchanged.
Last year Vestel launched the Venus Z20 at MWC 2018, exactly one year after the Z10 was presented at the same event. The phone we are looking at could very well be the upcoming Vestel Venus Z40, as the Z30 was announced at IFA 2018. It seems likely that this smartphone will be introduced at the end of February at MWC 2019.
Here you can find the patent from Vestel.