More and more electronics companies are diving into the foldables market. By applying a flexible screen, a completely new user experience can be created. A good example of this is the recently introduced Samsung Galaxy Z Fold 2, a foldable smartphone that you can unfold into a full-fledged tablet. However, this new display technology is not only applicable to mobile phones, various prototypes of foldable laptops with a flexible display have already been shown.
Over time, LetsGoDigital has repeatedly reported on computer manufacturers that have a foldable display device in development, think of Lenovo for example, but Microsoft, Intel and Dell are also working on these new types of devices. Another American player that seems to be involved in this new trend is HP.
When thinking about Hewlett Packard (better known as HP) many people think of printers, calculators, laptops and tablets. However, the American manufacturer from Palo Alto (California) has also gained experience in the field of features phones and smartphones over the years. The last smartphone from HP was the Elite X3 from 2016. This is a Windows 10 Mobile smartphone that you can easily connect to an external monitor, keyboard and mouse to create a desktop experience.
It seems that HP wants to use its acquired knowledge to develop a foldable smartphone that combines the features of a phone and a tablet.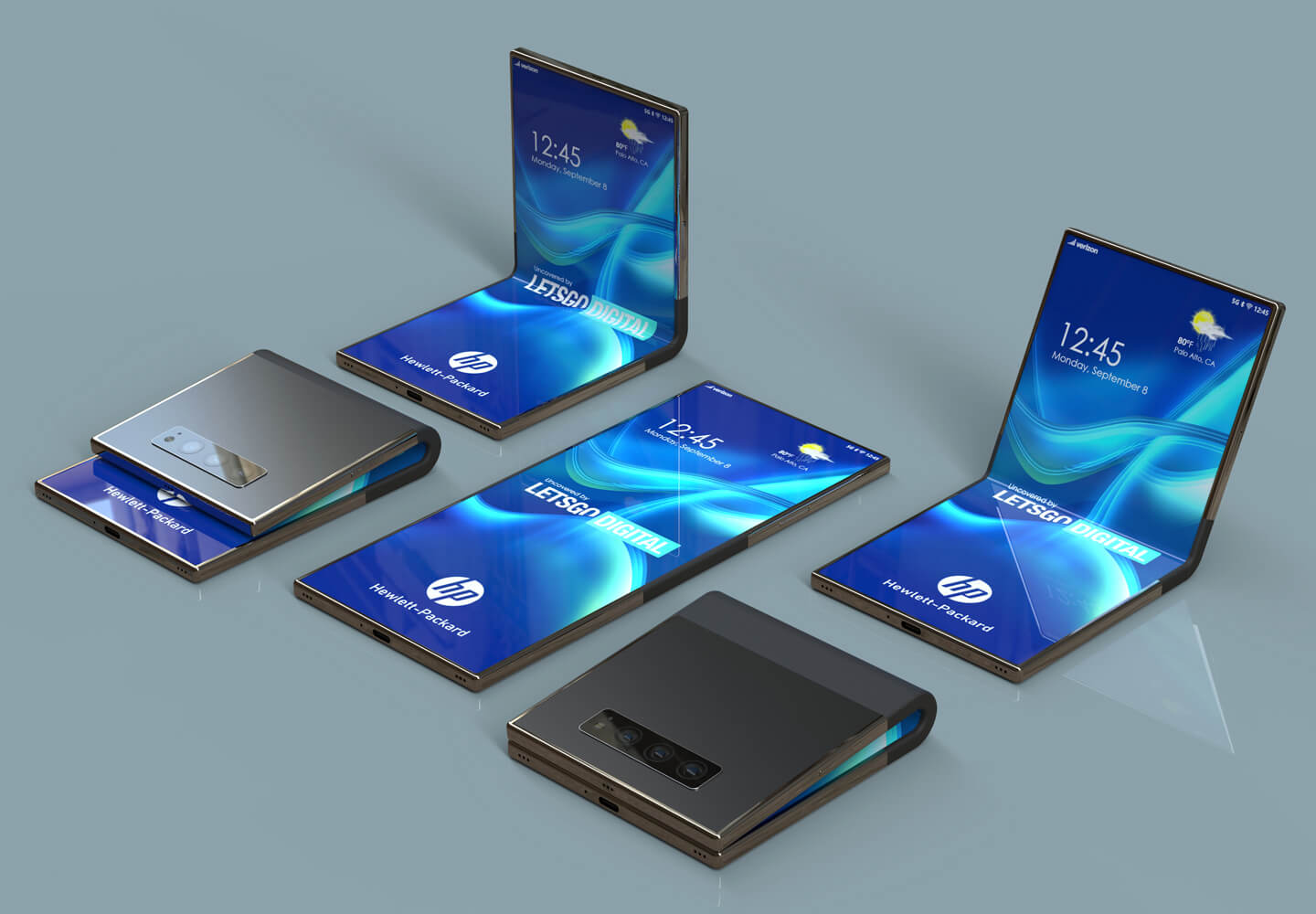 HP smartphone with foldable screen
In February 2019, Hewlett-Packard Development Company filed a utility patent with the WIPO (World Intellectual Property Office). The patent called 'Electronic display devices' was approved on August 13, 2020 and describes the technology required to implement a flexible electronic display in mobile devices, such as a mobile phone, tablet or computer.
The patent images show a flip phone (similar to the Motorola RAZR and Samsung Galaxy Z Flip) with a wide hinge and a rectangular shaped body. To better visualize the patented technology, LetsGoDigital has made a series of 3D renders based on the patent sketches. These concept renders are for illustrative purposes only.
Since it is a utility patent, certain design aspects remain underexposed, including the cameras, but also the size of the screen, for example. In the design of these 3D renders we have therefore reserved the freedom to integrate these aspects into the design according to our own interpretation, according to the industry standards that apply in 2020..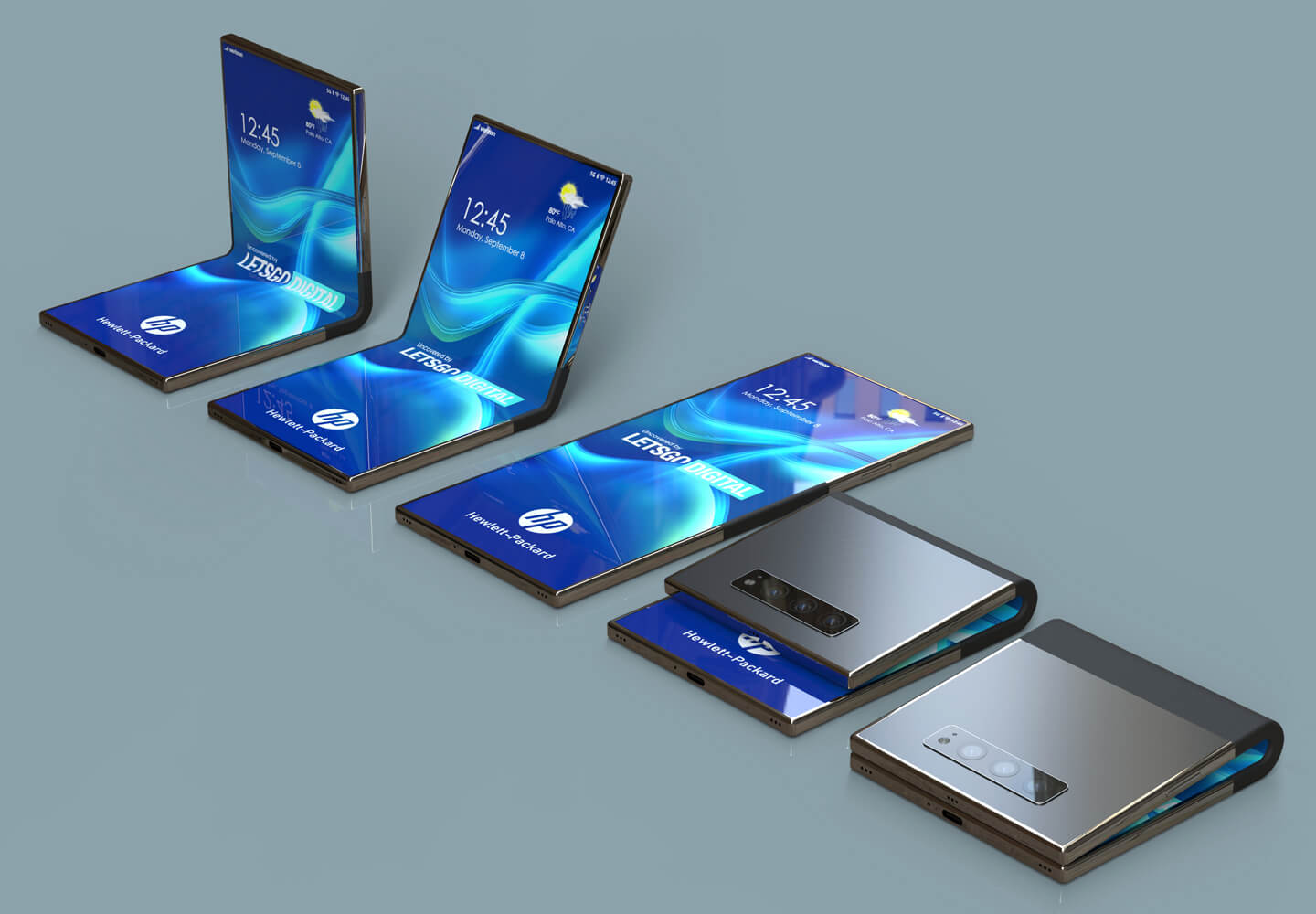 The foldable device from HP has a flat flexible screen. It is an inner folding OLED display with touchscreen functionality. As a result, the developed technology can be applied to both a flip phone and a laptop with a folding screen.
The documentation is mainly focused on solving the problems that occur when making use of a bendable display. By making a folding movement, the length of the inner surface changes relative to the outer surface. This can cause durability issues, as there is a considerable risk of damage when you fold and unfold the display panel frequently – according to the patent description.
To overcome this problem, HP wants to use a 'planar flexible substrate' (auxetics) that gets thicker when you put pressure on it. Most materials actually get thinner when you stretch them, which would be at the expense of durability. Suitable materials for this are different types of rubber, foam and fiber. These can be attached in various ways (eg as an adhesive) to the flexible display panel to facilitate the operation of the folding process, also in the long term.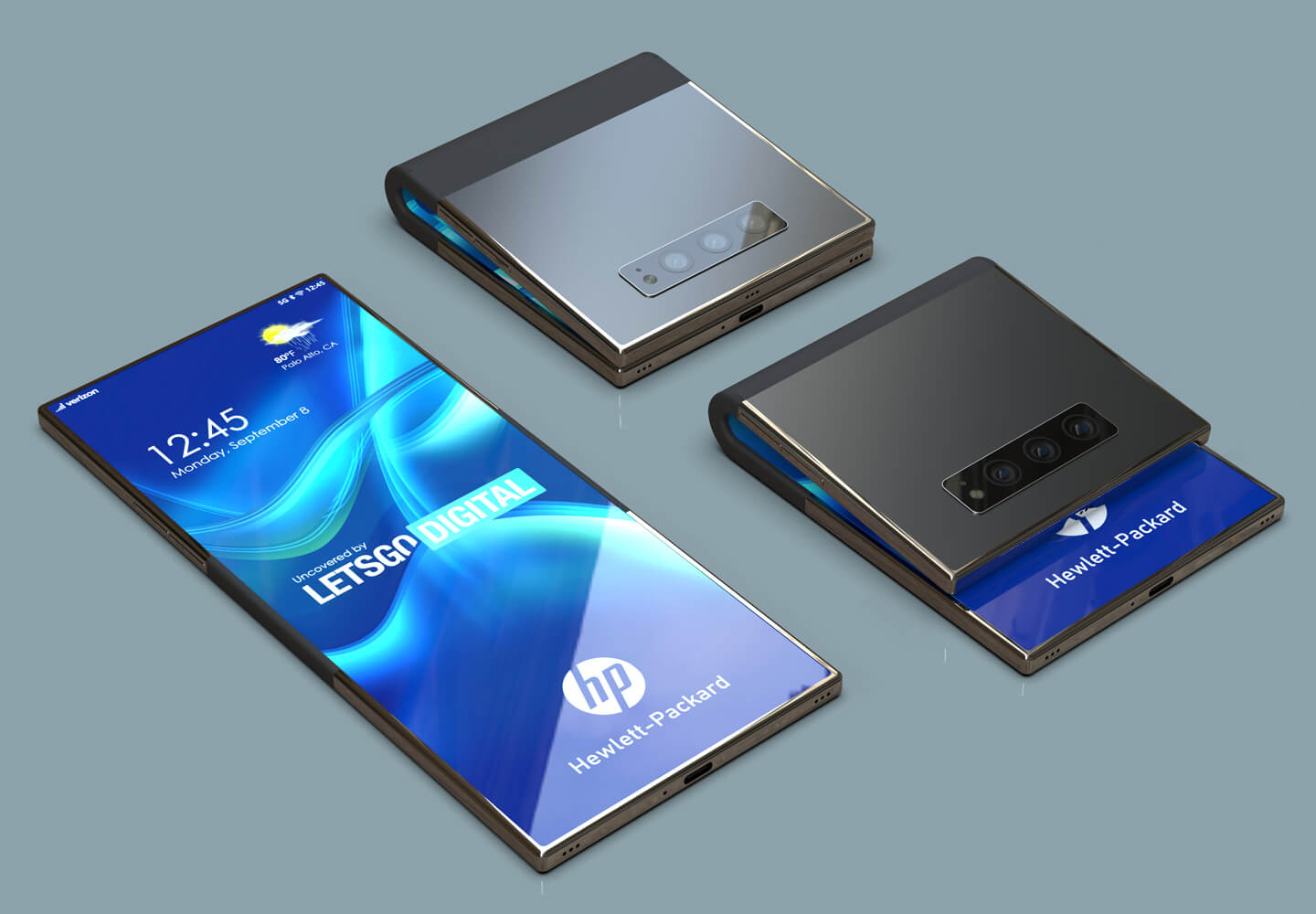 HP reserves the right to choose different design variants. One of the possibilities – which can also be seen in our 3D renders – is that the two display parts can be partially pulled apart when folded. Thus, a small display part remains usable even in the folded position. This can be useful for displaying notifications, incoming calls and messages.
Moreover, this eliminates the need for a cover display, which means that savings can be made on the cost price. Once you take the phone with you in your pocket, you simply fold the two display parts completely together, so that the screen remains optimally protected against scratches and bumps. Last year, LetsGoDigital also reported on a similar Lenovo foldable smartphone.
By using a hinge with interconnected sliding links, it should also be possible to use the appliance in a half-open position (at an angle of 100 to 210 degrees). This creates new control options, although these are not further specified, you can think of various advantages when you can use the device as a standing device. Consider, for example, hands-free operation. You can also easily adapt the interface to a kind of laptop screen, with the controls at the bottom (for example, a virtual keyboard) and at the top will display the image (such as photos / videos / documents).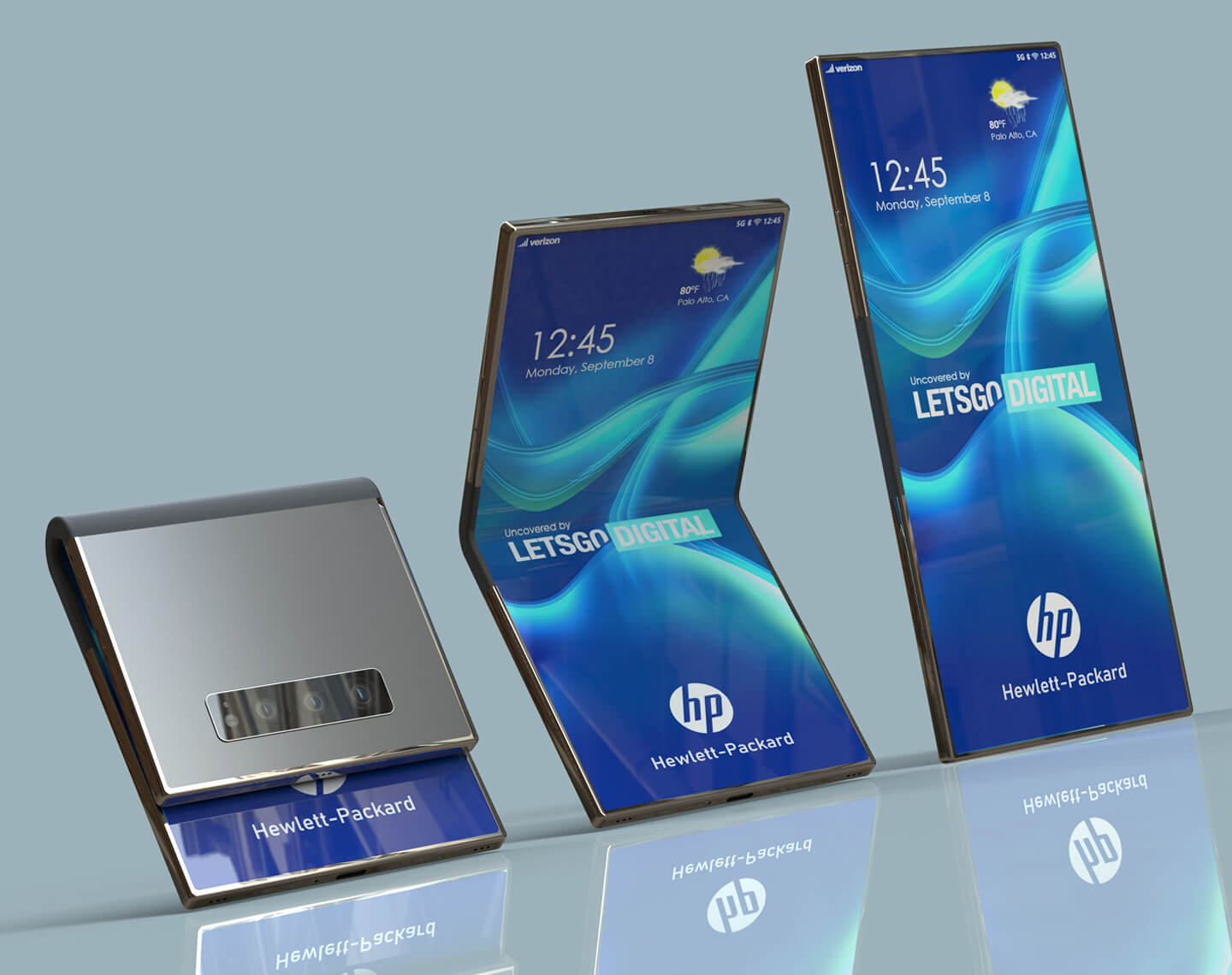 As an alternative, there is talk of the use of two or more hinges – somewhat similar to the Intel foldable smartphone, patented last year, consisting of three screen parts. It seems to be a matter of time before these types of models are also marketed.
A double foldable device would allow users to expand their mobile phone not only into a tablet, but even into a compact laptop. From that moment computer manufacturers will be able to make optimum use of the knowledge they have already acquired in the field of computer technology, interfaces and operating options.
In turn, HP will undoubtedly also opt for seamless integration with the available printing solutions, such as the Print Service Plugin app to wirelessly connect the foldable smartphone to an HP printer to further increase productivity.
HP and the foldable phone and tablet industry
After the Elite X3, HP has not released a new smartphone. The main reason for this was the decline of the Windows Phone platform. Nevertheless, computer manufacturers such as HP and Intel have of course been working with Microsoft for years and although Microsoft has stopped its Windows Phone platform, Windows 10X seems to offer a good alternative for dual-screen and foldable devices.
If computer manufacturers indeed want to release a foldable phone / tablet, it seems likely that these devices will run on Windows, instead of Android or iOS – as is currently the case with most smartphones.
Windows 10X won't be rolled out until around spring 2021, though, initially for single screen devices. Dual-screen support is likely to be rolled out in spring 2022. The COVID-19 pandemic is said to have changed strategy. This also means that the launch of the Microsoft Surface Neo dual-screen tablet will be postponed until then.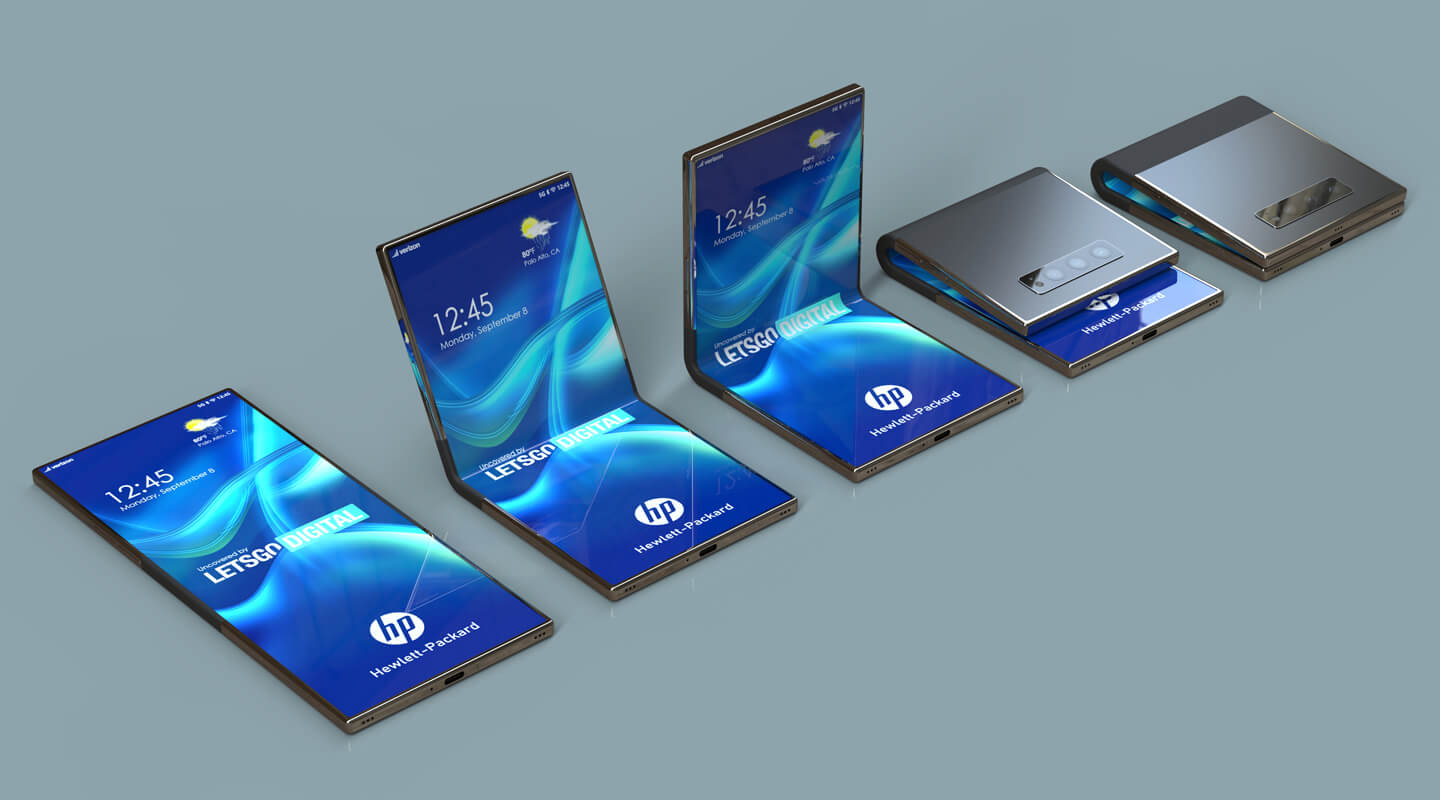 Either way, bendable displays seem to be the future. By choosing a flexible display, it becomes much easier to carry the device with you. The portability of smartphones has definitely contributed to its massive popularity. In addition, cell phones have become more and more powerful over the years, turning them into real portable computers.
The market for compact cameras has already been swallowed up by the smartphone and tablets have also declined in popularity in recent years – partly because smartphone screens have become increasingly larger. By being able to fold a smartphone once or even several times, this portable device will increasingly pose a threat to the tablet and laptop industry. It is therefore not surprising that computer manufacturers are also diving into this new market.
With the advent of flexible screens, the boundary between a smartphone and tablet is further reduced. It is therefore plausible that tablet and computer manufacturers, who traditionally feel less at home in the mobile phone market, will still make the step to foldable mobile devices – whether or not running on Windows OS.
However, it cannot be ruled out that HP will (first) want to apply this technology for a foldable laptop. The first foldable PC was announced at the beginning of this year, the Lenovo ThinkPad X1 Fold. This laptop with a 13.3-inch foldable OLED screen also runs on Windows 10.
View the documentation for the Hewlett-Packard flexible display device.
Note to editors : The product renders presented in this article are copyright protected by LetsGoDigital. The images are based on the patent drawings from Hewlett-Packard and are for illustrative purposes only. This product is not for sale, it's a concept design. Media publishers world-wide can use our 3D artwork for free, as long as a clickable source link is included into the publication. Thank you very much for understanding.