In January 2017 Alcatel launched its 6-inch Alcatel A3 XL budget smartphone. The entry-level model will likely be succeeded soon. It's successor has already appeared at various inspection agencies.

Alcatel budget smartphone specs
Last week an unannounced budget smartphone from Alcatel received FCC approval, as first discovered by the Dutch website Mobiel Kopen. The Alcatel A3A XL with model number 5099D is likely to succeed the one year old Alcatel A3 XL
Regretfully the FCC documents don´t show much details regarding the specifications of the device. It does mention a 2900 mAh battery, which is somewhat remarkable as the current A3 XL has a 3.000 mAh battery.
In addition, the dimensions of the A3A XL are known too: (LxW) 162×76 with an overall diagonal of 178.9mm. The current A3 XL has similar dimensions (LxW 165 x 79mm), which could indicate the 6-inch display will be integrated in the new model too. The screen will have a traditional 16:9 aspect ratio.
Dual Camera and Fingerprint sensor
Although the FCC documents do not reveal more specs, there is an interesting photo attached. The rear of the device shows this budget phone will feature a Dual Camera. The current A3 XL features an 8MP rear camera and a 5MP selfie-camera.
It's not the first time we see an Alcatel dual camera smartphone. In September the French company launched the A7 and A7 XL budget smartphones. These Android phones also incorporate a dual camera and a higher capacity battery (4000 mAh). The A7 carries a retail price of €230. The Alcatel A3A XL will be slightly cheaper.
Furthermore, the picture also shows the fingerprint sensor is placed on the back of the device.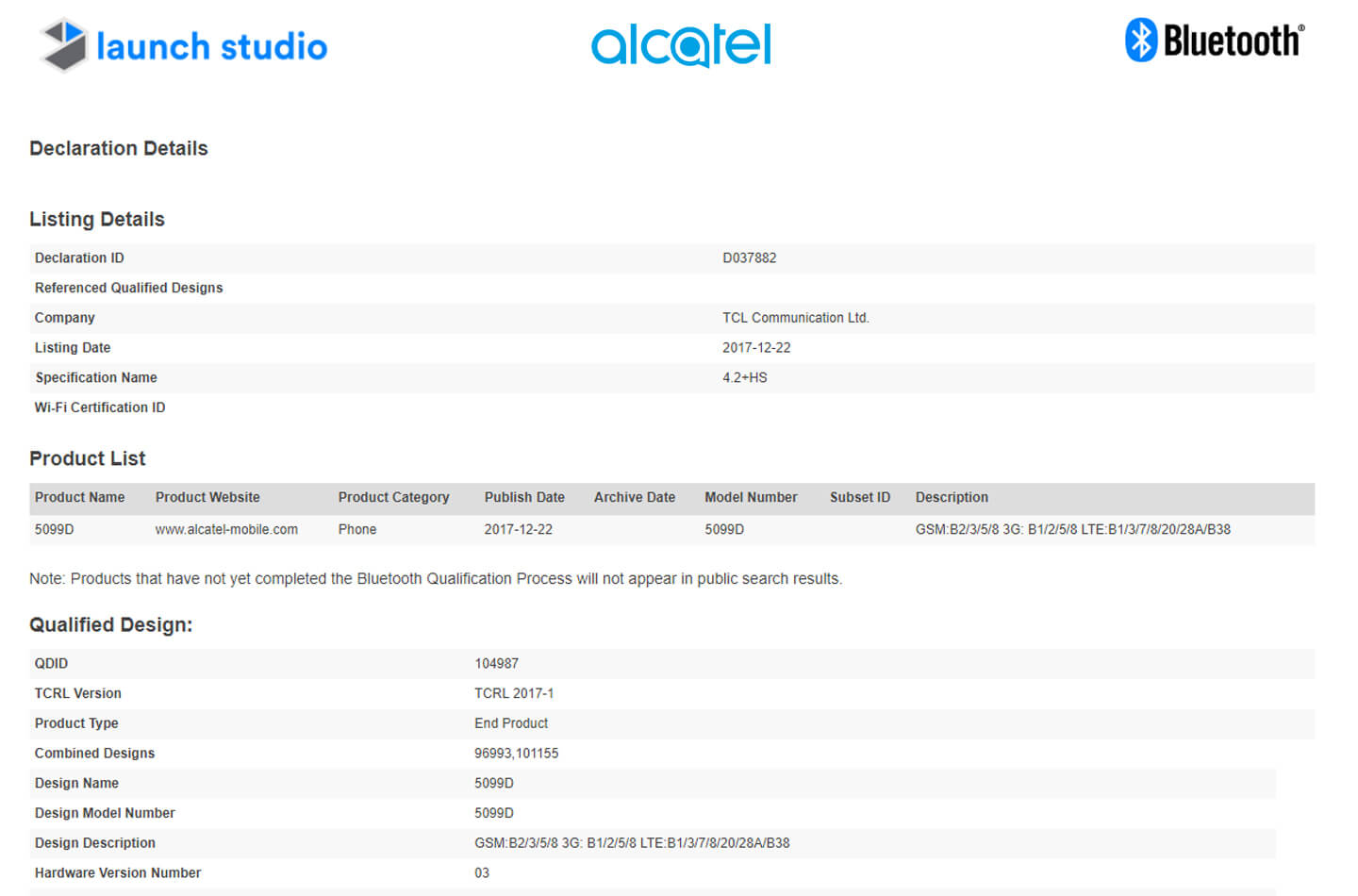 Bluetooth and WiFi certification
In addition, the Alcatel budget smartphone not only received FCC approval. The A3A XL received both a Bluetooth and WiFi certificate earlier this month. The Bluetooth certificate reveals the new entry-level phone will run on Android 8.0 Oreo.
Alcatel A3A XL at CES 2018
As the A3 XL was introduced in the beginning of January, the new A3A XL is likely to be unveiled just in front of the CES 2018. The consumer electronics show in Las Vegas, Nevada starts on the 9th of January.
The FCC documents can be seen here, the Bluetooth SIG here and the WiFi Alliance here.